1,000 THE HARD WAY: His journey to a milestone wasn't easy
Posted 2/18/14
Reaching 1,000 points is a coveted milestone for any basketball player in his career. For Anthony Wright, it almost didn't happen.
Photo by Noelle Barrett - Steelton-Highspire's Anthony Wright sports a haircut that …
1,000 THE HARD WAY: His journey to a milestone wasn't easy
Posted
No matter where Wright played, he always found a pivotal role on the team, and he had success his sophomore and junior years at CD East. Yet, something wasn't right.
"At first things were going fine, but I just wanted to come back home where I belong," Wright said.
That home was in Martin J. Benkovic Gymnasium, back with his Steel-High teammates. So, his family moved back to Steelton in time for his senior year of high school.
"The biggest thing when I came back was my coaches said, You got to be a leader,' so that's what I stepped up into," Wright said. "But, then again, I wasn't so confident in playing at first. It was like a new fit all over again."
His ability to help guide and hype up the team led to his grandfather giving him the nickname "Fire."
"He's the person that goes and fires the team up," his grandfather, Joseph, said. "Basketball is not an 'I' sport, it's a team sport. He knows it's not an individual thing, so that's why I call him that."
And while Wright is always rooting for his teammates, the whole Steel-High community was cheering for him as he reached 1,000 points on Tuesday, Feb. 11 at home in Steelton.
Before the game, Wright went through his typical pre-game routine. He talked with teammates, remained focused, ate a banana so he didn't cramp up. But days before the game, he also did something completely different.
As he stepped onto the court that night, he had a new haircut with the phrase "1,000 ALL-DAY" cut into his hair, a plan concocted by his mom and relative Calvin McKinnie, who did the cutting.
"Calvin asked if I wanted 1,000 points in my head, and I'm, like, "1,000 points? No, I'm good,' " Wright said laughing. "He said, 'Come on, get 1,000 points in your head. It's going to look nice.' So I was, like, "All right, show me what you've got.' "
Wright had a reason to be confident he'd join the 1,000 points club. Going into the game against Bishop McDevitt, Wright only needed two points.
"That was actually mind-blowing," Wright said. "Going into that game, I wanted it to come to me, so that's when it happened."

Wright was fouled midway through the first quarter, and took a spot behind the free throw line.
Swoosh. The basketball slid through the net on the first foul shot, and Wright's confidence lifted. Anticipation ensued, and as the second basket fell through, there were a lot of emotions—excitement, pride and, of course, relief.
"It felt like a big lift off my shoulders, like it's over with – people telling you, 'You're going to score 1,000,' " Wright said. "After that, it was time to get back to Roller basketball."
Wright took a few seconds to be congratulated by head coach Tramayne Hawthorne and his teammates before putting his focus back on the game.
"I'm very happy that he made it to where he is, and I think he truly deserves it," Russell said. "What he's endured and what he's been through to get where he is, to get those 1,000 points, I'm so blessed that God gave him an opportunity to do so."
Now Wright is on list of other Steel-High greats who reached the feat of scoring 1,000 points.
"Being a Steamroller is amazing," Wright said. "You got to have pride in that, and when you go out on the basketball court, you represent your school, the fans, and the past basketball players who have played there. So it's pretty tough going out there, knowing your legacy."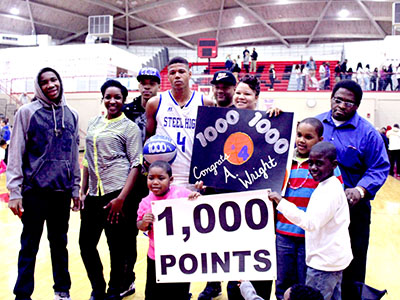 Photo by Noelle Barrett - Steelton-Highspire's Anthony Wright (4) poses with his family after he reached the 1,000-point milestone of his high school basketball career during a game against Bishop McDevitt.Wright gets a lot of motivation from the Steel-High fans, friends and his teammates. As for people he looks up to as heroes, Wright doesn't look to the court, but to his home.
"My pop-pop [Joseph] taught me how to be a man since my real father wasn't in my life,'' Wright said. "My stepdad, Victor Russell, stepped up and took that role as my mom's husband and an excellent father figure."
His older brother Joe, was a senior on the basketball team when Wright was a freshman and continues to teach him on and off the court.

And "of course, my mother is an inspiration,'' Wright said. "Oh, my gosh, my mother, we've been through it all."
And he knows he'll have that support as he closes one chapter in his life and opens another.
His senior year is coming to an end, as well as his final year as a Roller, but Wright is ready to end his Steel-High career on a high note.
"My goal is to definitely win districts," he said. "After districts, we want to make a run at states, and hopefully get a state championship, so we'll be a part of history forever."
Once the season is finished, Wright will continue to look at colleges to continue his education and basketball career.
Like the family he found in Steelton, he hopes to do the same elsewhere.
"I'm looking for somewhere I could fit in, play, and make an impact," Wright said. "And just feel like I'm at home, and feel like I'm going to a family somewhere, like its tradition as well."
Like many with a strong passion for the game, he dreams of playing in the NBA.
"I love the mental and physical parts about it – it's a great play-all. You have a great atmosphere at times," Wright said. "To be the best, you have to practice every day, so that makes me strive to keep working hard in the classroom and on the basketball court to get there."
But he also wants more. He plans to get his bachelor's degree in sports management before going on to graduate school.
"I was doing a lot of thinking – if I make it to the NBA, I still want to get my master's," Wright said. "You're not going to play in the NBA your whole life, so after basketball, you have to have something as a backup."

But with the NBA comes other perks besides doing what he loves.
"I'm definitely going to invest in a couple McDonald's," Wright said laughing.

Wright not only wants to leave a legacy but make those around him proud.
"My younger brother, Derrick, he's the one that makes me want to be the greatest basketball player, like better than Michael Jordan," Wright said. "He'll be saying things like, 'Brother, you should be out there and score 50 points.' He's always encouraging me."

Wright's future is bright, but it almost didn't come to be.

"Three years ago, this wasn't supposed to be," his mother said. "Everything the doctors said he wasn't going to do, he did, and I count it all as a blessing."
Comments