23 Years Ago: 8/24/2016
Posted 8/23/16
23 YEARS AGO - Back To "Shoe-LL" – Some things never change with the start of a new school year, including breaking in a new pair of shoes. Here, Ginny Murtoff, owner of the Middletown Shoe Store, 10 S. Union St., sizes up Stephanie Teeple, …
23 Years Ago: 8/24/2016
Posted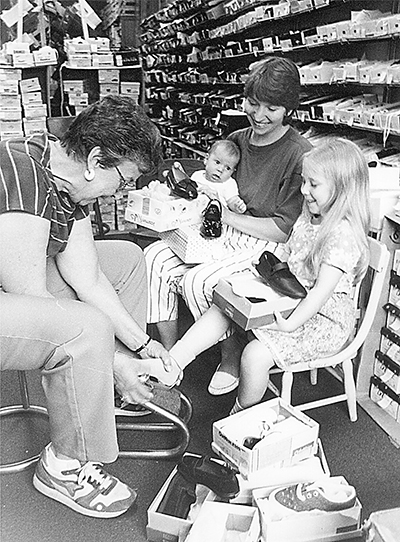 23 YEARS AGO - Back To "Shoe-LL" – Some things never change with the start of a new school year, including breaking in a new pair of shoes. Here, Ginny Murtoff, owner of the Middletown Shoe Store, 10 S. Union St., sizes up Stephanie Teeple, who is entering Londonderry Elementary School. Stephanie's mom, Susan, with baby brother Alexander in tow, smiles her approval.
From The Wednesday,
August 25, 1993 Edition Of The Press And Journal
Trucking Co. Gets Okay
For L. Swatara Facility

Watkins Motor Lines, Inc., a Florida-based trucking firm, got the green light from the Lower Swatara Township Board of Commissioners to submit a subdivision and land development plan for a 30-acre tract located along the east side of North Union Street, approximately 800 feet north of Fulling Mill Road.
For the full story, CLICK HERE to subscribe to the Press And Journal.
{jcomments on}