'A heck of a ride': Falcons fall to North Penn in thriling title game
Posted 6/18/13
Photos by John Diffenderfer Members of the Lower Dauphin baseball team accept the Class AAAA runner-up trophy and silver medals.STATE COLLEGE – Catcher Deon Stafford called Lower Dauphin's 2013 baseball season a Cinderella story. First baseman …
'A heck of a ride': Falcons fall to North Penn in thriling title game
Posted
As Falcon Coach Ken Kulina consoled his team while handing out silver medals along the third base line afterward, he found no reason for head-hanging or tears. This team, he said, scratched and clawed its way to the state finals, far exceeding the expectations of many after entering the District 3 AAAA playoffs as the fifth seed.
The Falcons, also District 3 champs, finished their 2013 quest at 22-6-1.
"We had a heck of a ride here,'' said Kulina. "You saw two teams that kept throwing punches at each other, high school kids that were just battling under pressure situations, and that just made it a wonderful AAAA state title game. We lost the game, but I'll tell you what, these guys are winners. I'm proud of them.
"We got so far this year. We didn't expect this, and we got it on guts, hard work, and total team effort. We went down like that tonight, and I'm proud of our guys for that."
Lower Dauphin seemed primed to take home its first state title in three tries after a boisterous 3-run third inning that saw RBIs from Kaylor Kulina and a pair from Stafford to break open a scoreless game and hand the Falcons a 3-0 lead.
But North Penn, seeking their first state title since winning one in 2009, had no interest in going quietly. The Knights (17-10) stormed back with a 5-run fifth inning off Falcons starter Marshall Kiessling. The inning was highlighted by four straight North Penn hits, each of which produced a run.
Lower Dauphin would show some fight of its own, though, in the sixth and seventh inning. An RBI single to left field from Fails plated Stafford before Kulina's one-out single to left in the top of the seventh scored senior Jeff Light to extend the game to extra innings.
---
Kulina came on in relief of Kiessling with one gone in the bottom of the seventh, and proceeded to strike out a pair of Knight batters to work out of a jam. In full, the junior went 2.1 innings, surrendering just a single hit and run while walking a pair of batters and striking out five. He was the losing pitcher of record.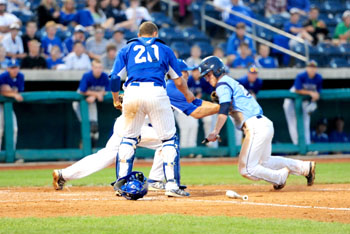 Lower Dauphin pitcher Marshall Kiessling tags out a North Penn runner at home plate during the Falcons' 6-5 loss in the Class AAAA championship game. North Penn's Dylan Borawski went the distance, fanning three over nine innings of work while surrendering 10 hits. The Knights were paced by a 2-for-5 night from Scott, who notched another RBI to go along with his game-winner. Lower Dauphin received a pair of RBIs from Stafford and Kulina.
"He worked his butt off for us – he's a team player, and he worked his butt off for us," Stafford said of Kaylor Kulina. "It's a shame they got one run off him, but he did a great job. Hats off to him.
"We were getting that second-place medal. That's all I thought about. This could happen, this could happen, this could happen. That's all I thought about, and it's a shame. But it was a good game."
Six Falcons, Drew Patterson, Fails, Kiessling, Light, Aaron Kline and Lingle played their final game in Falcon blue and white. The program returns five of its nine starters from the state title game.
For Lingle, his interscholastic baseball career didn't end the way he wanted it to. But, he admitted afterward that he couldn't be prouder of the group of players that showed up day in and day out, ultimately carrying them to within a run of a state title.
"When we started in the regular season, it did not look like we were going to have much of anything,'' he said. "We started districts, and ever since that Cumberland Valley game, we've been on fire. We had the bases loaded one or two times, but just couldn't get it done.
"When I was a sophomore, I got pulled up for varsity, and got to see what playoffs were like. This year, we just kept rolling and getting it done,'' Lingle said. "Something was a lot better; all of us started to mesh right when playoffs started. I couldn't tell you why, but we started to get used to playing together, and all came together."
Comments