A new era? New coach, new strategy = renewed hope for Raiders
Posted 8/27/13
Just a couple months ago, Brett Myers was planning for the upcoming football season at Pottstown High School, where he had been coaching for several years. But that changed in a hurry – now he has returned to his Middletown roots to take over a …
A new era? New coach, new strategy = renewed hope for Raiders
Posted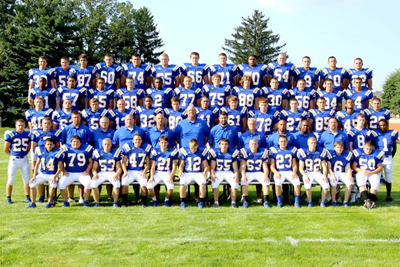 Middletown Area Football Team- photo by Jodi OckerNow he is charged with re-establishing the winning ways that the tradition-rich Middletown program had enjoyed in the past.
After winning back-to-back Liberty Division titles and making the District 3 playoffs in 2008 and 2009, the Raiders slipped to 5-5 in 2010, then won just three games total in the following two seasons.
The departure of Rob Deibler in late spring after two seasons at the helm set the stage for a coaching search, and Myers was hired. And he has been very busy getting the team ready for the 2013 season.
Participation in off-season weightlifting and conditioning sessions had been very encouraging for Myers and his revamped coaching staff. Another positive: Several of the assistants are back and a couple new names have been added to the staff. Myers did not bring anyone from Pottstown with him.
While the overall numbers are not that great, the intensity level is up and the work ethic of the players has improved substantially, which was shown initially during the three-day heat acclimatization sessions and the official opening of training camp on Monday, Aug. 12. Players have had to adjust to the no-nonsense, demanding style of coaching that Myers brought with him.
Yet another positive: There are quite a few seasoned veterans on the players' roster who should play major roles in the transition to Myers' offensive and defensive systems. The senior and junior classes are well represented by returning lettermen who will lead the squad into the new season.
Senior Chris Holloman (5'9, 175 pounds) who broke the 1,000-yard rushing barrier last fall, and classmate Josh Matinchek (5'8, 160), who added more than 600 yards on the ground, are both back to lead the offense.
Also a starter last year, receiver/defensive back Mel Fager (6', 185) is back for his senior campaign along with two-way linemen Nick Drawbaugh, a 6'3, 240-pound guard; Cody Lutz, a 5'8, 210-pound center; and Colton Smith, a 6'3, 240-pound tackle.
Other seniors who will be in the mix are receivers/defensive backs Levi Varner, Andrew Rowe, Jeremy Shaver and Aaron Gray; halfback/linebacker Seth Babil; and first-year player Steven Cain, a receiver/linebacker.
From the junior class, quarterback Nathan Ocker (6'1, 170) returns after starting six games as a sophomore when last season's starter went down with a season-ending injury. Better known for his baseball success on the pitcher's mound, Ocker, who led Middletown's baseball team with 77 strikeouts last spring, can also sling a football and should do well leading the offense in 2013.
---
Guard/defensive tackle Brent Newton (6'2, 250) and two-way tackle Mitch Ward (6'3, 270) both started on the offensive line last year as sophomores and bring a ton of experience into the new season. Other junior linemen include Clayton Billman (6'3, 235), Nick Myers (5'7, 160), former tight end Jalen Morra (5'9, 180) and newcomer Nick Moose (5'11, 215).
Kurt Dey (5'8, 155) and Terry Thomas (5'7, 140) add quality depth at the receiver/defensive back positions, while Will Botterbush (5'9, 165) and Jordan Flowers (5'11, 180) are working at fullback and linebacker. Flowers also could also see time at tight end and defensive end. Brett Altland is also in the mix at receiver/defensive back.
This year's squad also has a pair of sophomores returning following their varsity seasons as freshmen in 2012. Osman Kamara (5'9, 170) will back up Ocker at quarterback and will play defense after lettering at linebacker last year. Caleb Leggore (5'10, 175) started at linebacker in 2012 and is a fullback on offense.
There are also a good number of sophomores and freshmen who are pushing the upper classmen for roster spots on this year's squad. Unique to this season was an invitation extended to 20 freshmen to attend the pre-season camp, and the group has shown a lot of promise.
"We have a lot of young guys who are competing against the upper classmen for positions," Myers noted, adding that some of the freshmen will be on the varsity roster.
After using a Wing-T offense for quite a few years, the team switched to a spread set the past two seasons. Myers has been installing a new offense that has components of both of those along with some veer and option plays. "We call it a hybrid offense because of the mix of several styles," Myers said.
Many of the sets operate out of the shotgun formation, and the players are working hard to make the transition work.
On the defensive side, the team is using what Myers calls a 4-2-5 set with a four-man front, two true linebackers and five defensive backs. Because of the speed and athleticism of his players, the defense should be solid in 2013.
Myers approached the team's first scrimmage at Pottstown with mixed feelings and was relieved to get through it safely. Even without a couple key players in action, the Raiders showed some positive signs that they are headed in the right direction.
Moving the ball with some consistency, their initial 10-play offensive series ended at Pottstown's 1 yard line. On the first defensive series, the team recorded an interception and fumble recovery. And the second offensive unit scored a touchdown.
"This is a very coachable group of players and they are working hard," Myers said. "We need to come up with team leaders who will decide if they want to be successful this year."
Because Myers played his scholastic football at Middletown, he knows what the local fans want – and he will do everything he can to bring the winning ways back to the Raider program.
Middletown faces a tough opening-game opponent, hosting Lower Dauphin in Week One of the new season. The result of the game will show how far the team has progressed under Myers' leadership.
Larry Etter can be reached at larryetter66@gmail.com.
Read a preview of the Lower Dauphin and Steelton-Highspire varsity football teams, as well as previews of all Middletown, Lower Dauphin and Steelton-Highspire fall sports teams, stories and photos of other school sports teams, in our e-Edition and our printed edition, which will be published on Wednesday, Aug. 28.

Comments