A SURPRISING RUN: Rollers (8-16) clinch spot in PIAA playoffs with two wins
Posted 2/25/14
The regular season for the Steelton-Highspire girls' basketball team was a rollercoaster. Competing against mostly Class AAA and AAAA schools, Steel-High saw some wins, but also more close games and losses than it's used to in recent years. …
A SURPRISING RUN: Rollers (8-16) clinch spot in PIAA playoffs with two wins
Posted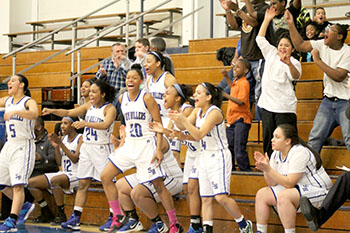 The regular season for the Steelton-Highspire girls' basketball team was a rollercoaster. Competing against mostly Class AAA and AAAA schools, Steel-High saw some wins, but also more close games and losses than it's used to in recent years.


The Rollers have been searching for their comfort zone – and now they've found it in the District 3 Class A playoffs.


With back-to-back wins last week in the first and second rounds, the Rollers (8-16) continued their unlikely quest for the district championship and a place in the state championships.


Steel-High defeated the Christian School of York, 51-28, on Saturday, Feb. 22 in York in a quarterfinal game. To get there, the Rollers defeated Antietam, 75-35, on Wednesday, Feb. 19 in Steelton – after a pep talk by Super Bowl winner Jordan Hill, a Steel-High alumnus and member of the Seattle Seahawks.


The Rollers advanced to the District 3 semifinals, where they faced off against top-seeded Harrisburg Christian on Tuesday, Feb. 25 at Central Dauphin East High School.


For the full story, CLICK HERE to subscribe to the Press And Journal.
Comments