A TALL ORDER: Raiders fall to too-tall Mechanicsburg, 51-35
Posted 2/18/14
There were just too many hurdles for the Middletown girls' basketball team when it faced off against Mechanicsburg in the Mid-Penn Conference semifinals on Tuesday, Feb. 11.
The Blue Raiders tried to hang on in the final minutes of the game, …
A TALL ORDER: Raiders fall to too-tall Mechanicsburg, 51-35
Posted
Only three Raiders connected with the net. Ja'lynn Burton-Jones led Middletown with 17 points, and Jey Rivera and Bianca Jasper each scored 9.
In the opening quarter, Carl scored first, but Rivera answered to tie the game, 2-2.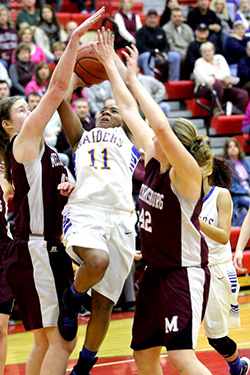 Photo by Jodi Ocker- Middletown's Ja'lynn Burton-Jones (11) fights for a shot against Mechanicsburg. Burton-Jones led the Blue Raiders with 17 points in their Mid-Penn Conference semifinal loss to the Wildcats.


The Wildcats took a 20-8 lead after the first quarter, built in part by 3-point shooting.


Proving to be a match outside the perimeter and inside the key, Mechanicsburg challenged Middletown's defense. The Raiders were down but still in it, and kept pace with the Wildcats in the second quarter, where each team scored 11 points. Mechanicsburg ledat the half, 31-19.


The Raiders needed a second-half comeback, or a slight scoring lead in the third quarter to boost their confidence. Instead, they came into the second half lackluster. Rivera posted the Raiders' only points with a basket and free throw, while Mechanicsburg put away 12 points.


"Did we play well the whole game? Absolutely not. Did we play hard the whole game? Absolutely not,'' Hunter said. "I was disappointed in that, Defensively, we've got to tighten up the ship."
Mechanicsburg's 43-20 lead going into the final 8:00 proved to be too much for the Raiders to overcome. Middletown outscored the Wildcats, 13-8, in the final quarter, but it wasn't enough.


"We're supposed to be scrappy. We didn't scrap for the whole game tonight," Hunter said. "There were some spurts in there, but we stopped playing in the end."


Playing a challenging team like Mechanicsburg helps prepare the Raiders for the District 3 Class AAA championships. Middletown (18-4) faces West Perry (16-5) on Wednesday, Feb 19 at Middletown Area High School in the second round of the championships.


Even with the loss to Mechanicsburg, Middletown knows what to focus on to be successful.


"We knew it was going to be tough, and we were going to have to come out here with our best game and put up a fight," Rivera said. "There were spurts where we played really good but there were a lot of times where we were slacking a bit."


The Raiders and West Perry faced each other twice, each time taking home a win, but the Raiders are focused, hoping to upset them again.


"We have to forget about this game, and go in with the mentality we went in the first time we played them," Rivera said. "We already know we can compete with them, so as long as we play our A game, we got it."
Comments