Barry Baumgardner Sr.
Posted
Barry Baumgardner Sr., 75, of Steelton, died Monday, September 12, 2016, at his home. He was the son of the late Almeda Rae (Swartley Baumgardner) Peoples and Brenton T. Baumgardner. He was preceded in death by a brother, Warren E. "Sonny" Baumgardner.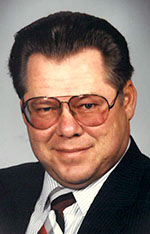 Surviving are his wife of 54 years, Bernie Baumgardner; children: daughter, Lorre Cooper; son, Barry Baumgardner Jr.; son-in-law, Shawn Cooper; two grandsons, Zachary and Nicholas Myers; three granddaughters, Madison and Skylar Baumgardner and Alexis Cooper; two brothers, Brenton D. Baumgardner and Steven Baumgardner; and many nieces and nephews.
His class (1958), was the last class to complete a 12 year education in the Steelton High School building and graduate from the Steelton High School auditorium. His class was also the last to receive a Steelton High School class ring (1958)
His vocational career began as a policeman with the Steelton Police Dept. He then was self-employed for almost 25 years, having owned and operated Barry's Grocery in Steelton, Keystone Super Service in Camp Hill, and Ben's Exxon Service Station in Harrisburg. He concluded his vocational career as an employee of the PA House of Representatives in 2002.
Barry was a lifetime member of the First Church of God Denomination, being baptized in 1954 by submersion in the Susquehanna River as a member of the Steelton Main Street Church of God. He later served as Sunday School Superintendent, as his grandfather had before him, until its closure after Hurricane Agnes.
He often remarked that having lived in the same block his entire life – he may not have gotten far, and that was okay because his only wish was to be remembered simply as a loyal father, husband and a Steeltonian. He found great joy in giving back to the community.
In the 9th grade, he began collecting Steamroller memorabilia and became a collector of Steamroller records. Later in life, he operated the scoreboard on Cottage Hill and was the official timekeeper for 20 years. Additionally, he wrote many stories about the Steamrollers that were printed in the area newspapers and Steel-High Football Programs. His proudest accomplishment was his compilation and creation of an up-to-date list of Steamroller sports individual scoring records, which had never been done before.
His service to the community continued with his election onto the Steel-High School Board in 1987; a position he held for 28 years. While serving, he was proud to be considered the Board Maverick, choosing to always stand up for the district underdogs and never backing down when he was passionate about an issue for the kids of the community.
A memorial service will be held on Monday, September 19, 2016, 12 p.m., at Trinity United Methodist Church, 210 W. Main St., Hummelstown, PA 17036. Visitation will be from 11 a. m. until time of the service.
Per his request, as a lifelong champion for the students and community, there is a Barry Baumgardner Steel High Memorial Fund being established. In lieu of flowers, contributions can be made out to the
Barry Baumgardner Steel High Memorial Fund, c/o Trinity United Methodist Church, 210 West Main Street, Hummelstown, PA 17036
Being a lifelong Steeltonian and fervent follower of the Rollers, to honor him, feel free to wear any Steel High attire.
Arrangements by Cremation Society of Pennsylvania, Inc.
{jcomments on}