Be-WARE: Falcon sub runs for three TDs as LD pummels Palmyra, 56-0
Posted 10/29/13
Photo by John Diffenderfer Lower Dauphin's Kalob Ware, a replacement for an injured Falcon, ran for 221 yards and three touchdowns in a career night against Palmyra. For much of the 2013 season, Lower Dauphin's defense has been all …
Be-WARE: Falcon sub runs for three TDs as LD pummels Palmyra, 56-0
Posted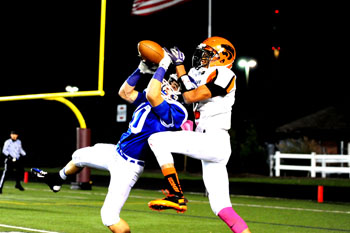 Photo by John Diffenderfer Lower Dauphin's Kalob Ware, a replacement for an injured Falcon, ran for 221 yards and three touchdowns in a career night against Palmyra. For much of the 2013 season, Lower Dauphin's defense has been all the rage on football fields across the midstate – but the Falcons' offense stole the show on Friday, Oct. 25 against Palmyra, posting 463 total yards of production in a 56-0 rout of the Mid-Penn Conference Keystone Division rival Cougars.

LD had to overcome some early sloppy play, including an interception and a missed field goal, but once the Falcons got rolling, Palmyra could do nothing to slow them down.

With Dalton Yentsch, the team's usual starting running back, sitting out with an injury, senior Kalob Ware got a chance to show off his skillset. Not only did he make good on the newfound playing time, he shined by racking up 221 yards on the ground and reaching the end zone on three occasions.

Ware put Lower Dauphin on the board first when he jaunted 44 yards and scored the first of his trio of touchdowns of the night midway through the first quarter. Joe Julius' extra point made it 7-0 at the 7:59 mark.

You can read the full story in our printed edition or our e-Edition.

Comments