Bennett, Dey win gold at White Rose
Posted 5/6/14
Middletown tallied three first-place finishes, three second-place finishes and six other top-six finishes in the White Rose Invitational on Saturday, May 3 at Central York High School.Photo by Jodi Ocker - Middletown's Kurt Dey, third …
Bennett, Dey win gold at White Rose
Posted
Middletown tallied three first-place finishes, three second-place finishes and six other top-six finishes in the White Rose Invitational on Saturday, May 3 at Central York High School.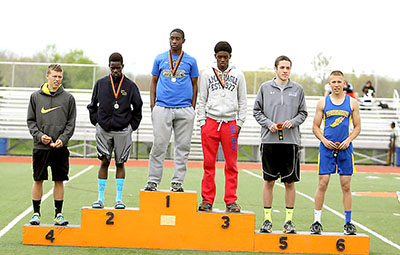 Photo by Jodi Ocker - Middletown's Kurt Dey, third from left, takes the No. 1 spot on the podium in the 400-meter dash, while teammate Dylan Danilowicz, far right, takes the sixth-place spot at the White Rose Invitational.
Brianna Bennett placed first in the discus and shot put, throwing the discus more than 97 feet and the shot put 36-1/2 feet.
Kurt Dey placed first in the 400-meter dash with a time of 51.23.
Levi Varner placed second in the pole vault with a vault of 13 feet; Drice Bahajak placed second in the boys' discus with a throw of 128-1/2 feet; and Jeremy Shaver placed second in the 1600-meter run with a time of 4:31.11
Shaver placed third in the 800-meter run, while Day placed fourth in the 200-meter dash and Josh Hurley placed fourth in the long jump. Mackenzie Lombardi placed fourth in the javelin throw.
Dylan Danilowicz placed sixth in the 400-meter dash, while Matt Cowan placed sixth in the discus throw.
Comments