Blackhawk down: Raiders roll to a 31-12 victory over Susquenita
Posted 9/24/13
Four different runners score touchdowns for Middletown
Photo by Jodi Ocker Middletown defender Steven Cain (9) stops a Susquenita runner.The offense ran for four touchdowns by four different players while piling up more than 200 …
Blackhawk down: Raiders roll to a 31-12 victory over Susquenita
Posted
"But I'm not really concerned about wins right now," he said. "I just want to see the kids progress and get better each week. They are working hard and doing that."

And he is looking forward to getting everyone back from injury and playing. "Teams know we are going to run the ball and usually put nine guys in the box on defense to stop us. But we're still running well,'' said Myers. "When we get Nathan Ocker back at quarterback we'll be able to get our passing game going to open things up. And we'll be able to get (substitute quarterback) Osman Kamara back to playing more defense."

For now, the system is working pretty well – and Myers sees it getting even better.

The Raiders did suffer a pair of minor injuries to two of their running backs against Susquenita (0-4, 0-1), but backfield depth has been a big plus for the Raiders. Junior Kurt Dey, who ran for one touchdown and 42 yards on just three carries, went down with a quad injury late in the first half, and freshman Jaelen Thompson twisted an ankle after adding 32 yards on five carries. But seniors Chris Holloman (20 carries for 107 yards) and Josh Matinchek (6 for 30) helped carry the team to the win.
Once again, the big guys on the front line turned in a solid effort to lead the way.

"When you look at our interior line, we're starting just one senior (Nick Drawbaugh), two juniors (Brent Newton and Mitch Ward), a sophomore (Caleb Leggore) and a freshman (Tommy Staker). That's saying something about our future," Myers said.

The Raiders set the tone early. On the first play from scrimmage, the Middletown defense recovered a Blackhawk fumble at the home team's 27 yard line. On second-and-2, a holding penalty wiped out a 19-yard touchdown run by Dey but the Raiders picked up a first down on a 13-yard pass from Kamara to Mel Fager.

Four plays later, Holloman cut through the middle from 4 yards out for the game's first score. Josh Alcock's PAT gave the Raiders a 7-0 lead just three minutes into the game.
---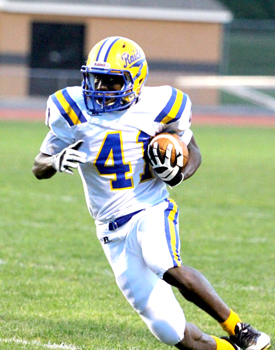 Photos by Jodi Ocker Middletown runner Kurt Dey (41), ran for 42 yards and a touchdown on just 3 carries, but left the field with an injury late in the first half. The Blackhawks suffered another setback on fourth-and-long when a snap from center sailed over the head of punter Brett Morrison, who kicked the ball out of the back of the end zone. The result was a safety and a 9-0 lead for the Middletown side.

Following the free kick the Raiders took over at the Susquenita 37-yard line. Runs by Kamara, Dey and Holloman moved the ball to the 6, but Kamara was sacked for a 9 yard loss, bringing up a third and goal from the 15. Dey took it from there, getting a key block from Holloman on a sweep left, and dashing into the end zone for the touchdown with 5:37 still left in the opening quarter. With the extra point the Raiders led 16-0.

The teams exchanged a pair of turnovers – a pass interception by Dey and a fumble recovery by Susquenita's Kevin Kenney – that kept the score unchanged. The Blackhawks also missed a field goal attempt in the closing seconds of the first quarter.

Credit had to go to the Susquenita defense in the second quarter, as the Blackhawks gave ground grudgingly during a Middletown march that reached the Susquenita 32. Matinchek ran for 30 yards on the next play but the effort was erased by another Raider holding penalty and Middletown was forced to punt.

On second-and-7, Morrison, chased by Raider defenders Drawbaugh, Newton and Steven Cain, was called for intentional grounding on a pass attempt, and the Blackhawks were backed up to their own 2-yard line. The Middletown defense then recorded its second safety when Susquenita's Evan Miller was dropped in the end zone with 4:19 left in the first half.

Following a Susquenita penalty, the Hawks were forced to kick from deep. With his team leading 18-0, Matinchek returned the kick to the 35-yard line and the Raiders took little time in padding their lead. A short Matinchek run, a 17-yard pass connection from Kamara to Levi Varner and an 8-yard run by Thompson set up Matinchek's 8-yard touchdown dash at the 2:43 mark. The Raiders now led by a 25-0 count.

The Blackhawks went to the air on their ensuing possession, as Morrison completed 6 of 7 passes in the drive. His last toss, however, turned into a turnover when Matinchek and Dey hit receiver Kyle Kenney, and Matinchek recovered Kenney's fumble at the 15-yard line. The bad news was that Dey was hurt on the play and did not return.

The Raiders would score just once more in the game – a touchdown coming on a nifty 9-yard dash by Kamara that capped the opening drive of the second half. The 8-play march covered 65 yards and resulted in a 31-0 lead for the Raiders with 8:37 left in the third period.

While the Blackhawks continued to move the ball through the air, their efforts went unrewarded – until Susquenita finally broke the drought on a 1-yard keeper by Morrison with just 9 seconds left in the third. Matinchek intercepted Morrison's 2-point pass attempt to hold the hosts to 6 points.
Midway through the fourth quarter, the Raiders ran nearly five minutes off the clock to keep the Blackhawks' offense off the field.

With the clock winding down in the fourth quarter, and both teams sending reserve players into the fray, the Blackhawks capped an 8-play drive with a 32-yard touchdown pass with just 39 seconds left in the game. Middletown's Aaron Gray blocked the extra point try and the Raiders ran off the remaining time to lock up the win.{jcomments on}
Comments