Comeback: Raiders rally twice, beat Panthers, 6-5
Posted 4/2/13
Photos by Phil Hrobak Middletown's Kaitlyn Feltenberger slides safely into second base in the Blue Raiders' 6-5 victory over East Pennsboro.It's early in the season, but the Middletown softball team may be earning a reputation as cardiac kids …
Comeback: Raiders rally twice, beat Panthers, 6-5
Posted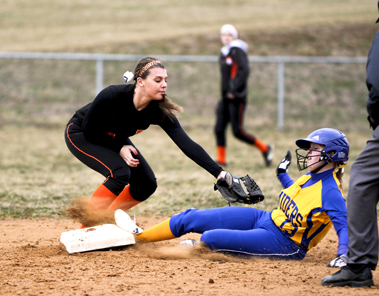 Photos by Phil Hrobak Middletown's Kaitlyn Feltenberger slides safely into second base in the Blue Raiders' 6-5 victory over East Pennsboro.It's early in the season, but the Middletown softball team may be earning a reputation as cardiac kids – and comeback kids.
The resilient squad overcame a 3-run sixth-inning deficit and a one-run seventh-inning deficit against East Pennsboro on Thursday, March 28 in Middletown, eventually emerging the victors, 6-5 in 9 innings.
It was sweet redemption for the Raiders (1-1), coming on the heels of a 3-2 loss in 10 innings to Susquehanna Twp. in their opener the day before.
"It's the kind of games that give you a heart attack," Coach Michael Thomas said after the March 28 victory.
You can read the full story in our printed edition or our e-Edition.
Daniel Walmer: 717-944-4628, or danielwalmer@pressandjournal.com
Comments