EARLY INNING BLUES? Raiders fall behind quickly in tough losses to Wildcats, Hershey
Posted 5/6/14
The Middletown baseball team's visions for a possible division title and a berth in the postseason playoffs were muddied a bit as the Blue Raiders dropped a pair of decisions last week in the Keystone Division of the Mid-Penn Conference.Photo by …
EARLY INNING BLUES? Raiders fall behind quickly in tough losses to Wildcats, Hershey
Posted
The Middletown baseball team's visions for a possible division title and a berth in the postseason playoffs were muddied a bit as the Blue Raiders dropped a pair of decisions last week in the Keystone Division of the Mid-Penn Conference.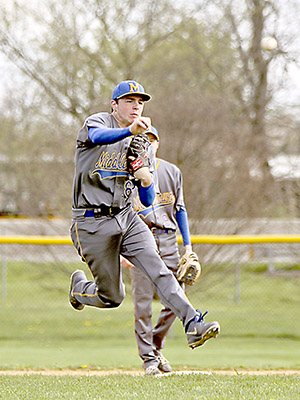 Photo by Phil Hrobak - Middletown third baseman Jordan Handley gets airborne on a throw to first base against Hershey.
Both losses – to Mechanicsburg and Hershey, a pair of teams the Raiders defeated in the season's first half – came about due to rough starts and a failure to rally.
With the losses, the Raiders slipped back under .500 for the season (6-7, 6-4 in the division) with seven games remaining on the 2014 schedule entering this week, including a visit to Lower Dauphin on Thursday, May 8; a doubleheader at Greencastle-Antrim on Saturday, May 10; and a re-scheduled road game at Bishop McDevitt on Monday, May 12.
Several victories during the final stretch will keep the door open to the postseason for the team.
For the full story, CLICK HERE to subscribe to the Press And Journal.
Comments