Enjoying Hillary and the spa on Christmas — no, not that Hillary: Ed O'Connor
Posted 2/15/17
Ed and Olga hang out at Hillary.
Hi, gang!
It has been awhile since my magic fingers have tapped the keyboard and much has occurred — the U.S. election, Thanksgiving, Christmas, New Year's, my birthday, we moved to a new apartment …
Enjoying Hillary and the spa on Christmas — no, not that Hillary: Ed O'Connor
Posted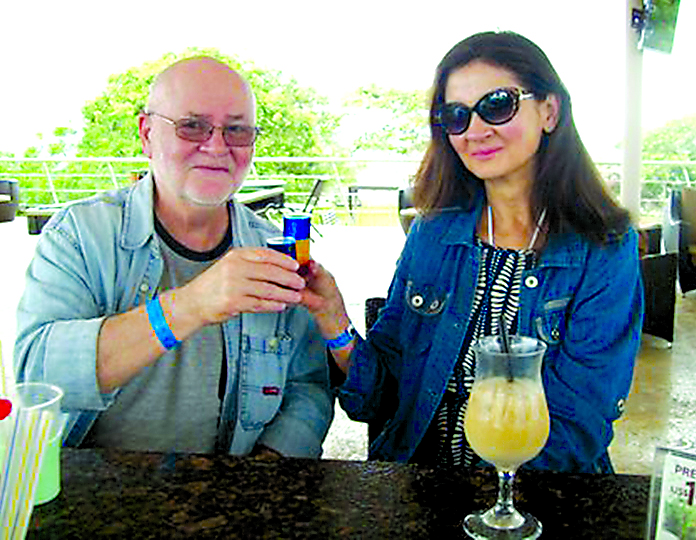 Ed and Olga hang out at Hillary.
Hi, gang!
It has been awhile since my magic fingers have tapped the keyboard and much has occurred — the U.S. election, Thanksgiving, Christmas, New Year's, my birthday, we moved to a new apartment and the yearly meeting of my fan club in Middletown.
My fan club wanted to have its annual meeting on my birthday, but the one lady got sick and the other didn't want to be the only member present — even though she had a quorum.
Hmmm. Where to start?
It was the day before Christmas and all through the spa, every creature was stirring, including Ol-ga.
Yes, it was Christmas Eve and we just returned from the pool — probably seems a bit different than with what you are accustomed. We spent Dec. 23 to Dec. 26 at an all-inclusive resort/spa in southern Ecuador, not too far from the Peruvian border.
We left Cuenca with a personal driver who said he knew exactly where we were going. It is a three- to four-hour trip from Cuenca to the resort. We left at 11 a.m. Eight and a half hours later we, by the grace of God, (sorry about that reference, libtards) arrived at the resort. In all that time, we were out of the car for 10 minutes. My kidneys thought that I had deserted them. Yet another adventure.
As I noted before, every day here is an adventure. We arrived in time for the buffet dinner, but at that point we were dern near fagged (sorry about that word, libtards. Fortunately, we don't have to be concerned about the PC Nazis here).
When we came back to our room and went to bed around midnight, the noise started. In the adjoining room was a Chinese family of five who were whooping it up until after 1 a.m. and didn't start again until 6:30 a.m. We went to reception and asked if we could get a different room and they accommodated us. We got an upgrade at no additional cost.
What a super place! If we could have gotten rid of the snot gobblers, it would have been dern near paradise. Don't get me wrong. I love children. My favorite way is barbecued.
I know that this portion probably makes no sense to you teetotalers, but since the resort is an all-inclusive, we decided to check out one of the bars. We bellied up to the bar above one of the three swimming pools. I ordered a margarita and Olga ordered (what else) a White Russian … then the second round.
With Olga's Spanish and my winning smile, we were able to converse with our "barman," Marco. I told him that I had been a "barman" in the United States for 18 years.
There was a big slushee-type machine that had a light green drink. I asked him that I wanted to know the content. He tapped a glass for us. It was a grasshopper. (If you want to know — Google it). Then unbeknownst to us, he started making various drinks to impress this former "barman."
His libations began with multicolored layered drinks using ingredients of different hues — starting with three different liqueurs and juices and ending at six. He even made a cocktail with the colors of the Ecuadorian flag. Marco was very impressive!
Of course, we did not want to create an international incident, so we downed each of his creations with a smile, which kept getting bigger with each new concoction. We bid adieu to Marco promising him we would see him manana, Christmas Day.
Oh, I forgot to tell you — we had no problem with "liar," "dishonest," "cheat," "corrupt," "crook," "criminal," "Marxist," "anti-military," et al. Why do I use these adjectives? The name of the resort at which we stayed? The Hillary Nature Resort Spa, www.hillaryresort.com, if interested.
Then it happened — Olga stepped in the pool on the top step and fell, bruising and skinning both legs and turning her ankle. She could not walk and had to lean on me just to walk. Hillary caught up with us. So, the rest of our Christmas getaway was very limited as to what we could do. At least the one open bar was accessible. The return trip was of the expected duration.
As for the election — what can I say? How about it is the first time in eight years I haven't been ashamed or embarrassed to be an American?
We had Thanksgiving dinner at the church and New Year's was spent at a friend's apartment. We counted 35 different locations around the city that had fireworks displays and only had a 180-degree view. The spectacle went on for more than an hour.
My birthday was memorable — we moved. I shall always remember birthday No. 70.
Moving was another adventure. We moved from a three-bedroom, two-bathroom apartment to a smaller two-bedroom, two and a half-bath place.
We sold all of our living room and dining room furniture to Canadians with one ad. They wanted it right away so we had no place to sit or eat. We moved our one bed into the living room in front of the TV and that is what we used for two weeks.
We had no idea we accumulated so much "stuff" since we moved here. During the move the moving truck was involved in a chain reaction accident. It was not his fault but he had to go to the police station for four hours. We had to purchase new furniture for the new apartment, unpack boxes and find a home for the stuff and have the internet transferred to the new address, (not as easy as it sounds). Finally, with eight days of work, we had the task accomplished.
One final note for now: We had a weather anomaly — the highest temperature ever recorded in the city, 84 degrees, and the lowest temperature, 32 degrees, both in a 24-hour period!
I wish all of you a happy and prosperous New Year!
Until later from beautiful Cuenca ... Eddy the Expat
Ed O'Connor, a former resident of Middletown and Lower Swatara Township, is an expatriate living in Cuenca, Ecuador.