Finals and Firearms? Should Pennsylvania's colleges allow students and faculty to carry guns?
Posted 12/3/13
State universities may ease their rules, but ban to remain at PSU-Harrisburg
While the Pennsylvania State System of Higher Education (PSSHE) in January may vote to permit concealed firearms in designated areas at its 14 …
Finals and Firearms? Should Pennsylvania's colleges allow students and faculty to carry guns?
Posted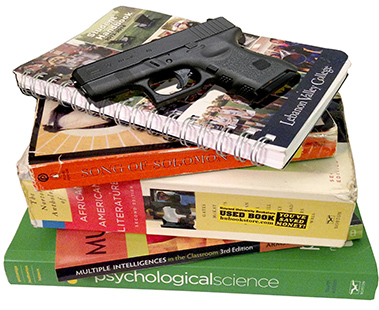 Illustration by Amber Shay For The Press And JournalThe proposed lifting of the gun ban is the result of lawyers for the state system arguing that the existing complete weapons ban may not hold up under a constitutional challenge and would leave those schools vulnerable to lawsuits.

But Penn State Harrisburg has no plans to lift its own ban on guns, regardless of what PSSHE does, said Chancellor Mukund Kulkarni. Although Penn State receives state and federal funds, its main campus and 19 branch campuses are not part of PSSHE. Neither is Pitt nor is Temple.

"They can own them," Kulkarni said, referring to firearms owned by faculty, staff and students, "they just can't bring them here."

Penn State "prohibits the use, possession, or carrying of firearms while on university-owned or controlled property, or at university sponsored or supervised activities,'' Kulkarni said. "Likewise, keeping a firearm in any locker or storage area of any building of the university is prohibited. Firearms shall not be kept in any vehicle on Penn State Harrisburg property."

Only campus police are permitted to carry weapons at Penn State Harrisburg, which has nearly 4,400 students.

Nearby Lebanon Valley College in Annville, a private college that can set its own firearms standards, is sticking to its guns – it will not allow weapons on campus, regardless of what the PSSHE decides.

"I do not ever see a time in which students will be allowed to carry guns on this campus, said Lewis E. Thayne, president of Lebanon Valley College. "Furthermore, as a private college, we are able to set up rules for our community, and our community is based on not having guns on campus; this includes our campus safety."

Gun rights advocates have cited shooting tragedies such as the Sandy Hook Elementary School massacre in Newtown, Ct.; the cinema rampage in Aurora, Col.; the killings at Virginia Tech and other incidents at malls and office buildings in their clams that an armed response by a gun-carrying defender could reduce the number of casualties.

But others, like Carolyn Hanes, a professor of sociology and criminal justice at LVC, don't see it that way.

"College campuses should not be armed camps where accidents, suicides, or inflamed passions can be exacerbated by the ready availability of guns,'' Hanes said. "Arming the college population is likely to result in more, rather than less violence on campus."

Gary Grieve-Carlson, an English professor at LVC, said he believes that allowing guns on campus would have a chilling effect on the exchange of ideas found at college.

"I think it would hurt relationships – if, in the back of my mind, I'm wondering whether someone is carrying a loaded gun while I'm interacting with that person, that doesn't contribute to a relaxed, open exchange of ideas," he said.

While stressing he is not opposed to guns, Greg Krikorian, Lebanon Valley's vice president of student affairs and dean of students, said firearms have no place on college campuses.

"They have a place in society as long as they are appropriately taken care of and appropriately used, but not on college campuses,'' said Krikorian. "I believe this is a place of learning and growth, and one of the keys is safety. I don't see a link between guns and college campuses."

What do students think?

At Lebanon Valley, the college's 1,689 students were given the opportunity to weigh in on the gun debate in a campus-wide survey. Of the 434 students who participated in the survey, a vast majority – 315 students, or 72.58 percent – answered "no'' to the question, "Should students, faculty and staff be permitted to carry firearms on campus?'' The remaining 119 students answered "yes.''

The campus gun ban received even greater support when the students were asked, "Would you feel safer if students, faculty and staff were permitted to carry weapons on campus?'' More than 330, or about 76 percent, answered "no'' while about 100, or about 23 percent, answered ''yes.''

One student commented, "As a graduate student, I may have a different perspective based on age and life experiences. With that being said, with the
Annville Police just blocks from campus, and with the college's on-campus security team and safety blue lights, I cannot think of any justification for a firearm to be on campus. Let's not have a repeat of Virginia Tech."

So how do schools respond to critics who say an armed faculty and student body can minimize, and perhaps prevent, campus violence?

"We don't want that [an active shooter] to happen here, but we have plans in place just in case," said Penn State Harrisburg's Kulkarni.
---

Penn State Harrisburg has adopted an emergency plan it calls "The Five Outs,'' five steps, posted on signs throughout the Middletown campus, that students should take if a shooting happens:

• GET OUT: Get yourself and others out of the area to somewhere safe.
• CALL OUT: Call 911. Give details on your location and what you saw or heard.
• HIDE OUT: If you can't get out, turn out the lights, hide until help arrives.
• KEEP OUT: Lock, block, or barricade the door. Be prepared to act.
• TAKE OUT: As a last resort, take out the shooter however you can.

There is also a campuswide emergency texting system called PSUTXT that, according to the Penn State website, is designed to alert the Penn State community when emergency situations arise. Subscribers can receive text message alerts on their cell phone or, if they choose, alerts sent to their e-mail address. This information can be found at http://psutxt.psu.edu/.

Penn State Harrisburg also conducts campuswide emergency drills, Kulkarni said.

Branch campus police officers are on duty 24 hours a day, seven days a week and receive the same type of training, certifications and licenses as other police officers in surrounding municipalities, Kulkarni said. Penn State Harrisburg is a part of Dauphin County's 911 system, meaning that if an individual on campus calls 911 before calling the campus police, 911 will dispatch the closest police agency. These officers could be from any of the nearby police departments, including the Pennsylvania State Police, Harrisburg city police and the police at Harrisburg International Airport.

In addition, the university's administrators conduct what they call "table exercises" in which personnel gather in a room and, without knowing in advance, are asked to respond to an emergency presented to them. Each member takes a turn discussing how they would react to the scenario.

The most important part of the exercise is the debriefing, which allows participants the opportunity to discuss what was done, what needs to be done and what needs to be improved, Kulkarni said.

At Lebanon Valley, public safety personnel are not armed, and the department's director, Brent Oberholtzer, agrees with the administration's weapons ban.

"Carrying a weapon on campus is not justified in any circumstance,'' Oberholtzer said."That responsibility lies with our friends at the Annville Twp. Police Department and other surrounding law enforcement agencies such as the Pennsylvania State Police."

Annville Twp.'s chief of police agreed: Arming a college campus is not the answer, said Chief Bernard G. Dugan.

"I don't think it should be a free-for-all in that any student or faculty should walk around campus armed,'' Dugan said. "Law enforcement folks are trained to respond to these situations. We need everyone on campuses and citizens in general to be aware of their surroundings and report suspicious activity."

Lebanon Valley has a plan in place for dealing with a shooter on campus, said Oberholtzer. The college's public safety staff's response to a shooter on campus is "to be the best witness possible to guide law enforcement's response to danger,'' he said.

"The Public Safety staff has no authority or training to mitigate such a threat,'' Oberholtzer said. "They are to activate the campus siren, communicate with law enforcement, safely usher as many of the campus community to a safe location and notify the administrator on call who, in turn, will send out an emergency notification using e2campus."

In August, Public Safety hosted a "tabletop exercise" where the topic was an active shooter, Oberholtzer said. The scenario played out from 38 N. College Ave. through the academic quad and into Lynch Memorial Hall.

For more than two hours, Public Safety, campus administrators, members of the Critical Incident Emergency Management Team (CIEMT), Residential Life, Annville Twp. Police, the Pennsylvania State Police, Annville Fire Company and emergency medical personnel pored over step-by-step details of a response. The exercise was designed to find the best practices and expose weaknesses in the college's response plans, Oberholtzer explained.

Now Public Safety has a second siren activation radio to assure its availability, he said. Staff was given special emergency training, and other steps are underway to better prepare them. Exercises and preparation are seen as the best way to deal with a shooter on campus – not arming everyone who comes to learn, teach or work there.

"I am absolutely certain that if guns were allowed on campus that our students would become more fearful,'' said Thayne. "In fact, I would become more fearful."

Melissa Pavone is a student at Lebanon Valley College and a staff writer for La Vie Collegienne, the college's student newspaper. Isaiah Luck is a student at the college and a contributing writer to the student newspaper.