Five hurt badly in Middletown crash
Posted 10/22/13
Two men and three women were injured badly in a four-vehicle accident on Main Street in Middletown on Monday, Oct. 21 that may have happened during a street race, police said.Police and emergency services were called to the scene on Main Street …
Five hurt badly in Middletown crash
Posted
Two men and three women were injured badly in a four-vehicle accident on Main Street in Middletown on Monday, Oct. 21 that may have happened during a street race, police said.

Police and emergency services were called to the scene on Main Street (Route 230) near the Mid-Town Plaza shopping center around 7:30 p.m.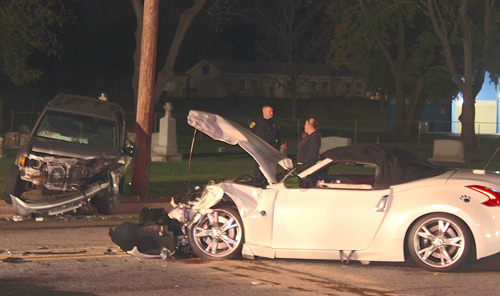 Police suspect a white Nissan Z and a black Porsche Cayenne were street racing along Main Street when the accident occurred, based on witness statements, according to Middletown police officer Joshua Reager.

A dark blue Mercury and an Izuzu Rodeo were also involved in the accident, police said.

All of the occupants of the vehicles involved were transported to Hershey Medical Center except for three men and one woman who were in the Porsche.

The five injured people were rushed to Penn State Hershey Medical Center with serious injuries, police said.
The Izuzu Rodeo, Porsche, and Nissan were towed from the scene.

Lower Swatara Twp. police, Middletown and Londonderry fire companies, and several EMS vehicles were on scene assisting.
Charges may be filed, pending the results of the investigation, police said.

Anyone with information or who may have witnessed the accident or vehicles driving along Route 230 and Vine Street Extended are asked to contact Middletown police by calling the non-emergency number at 717-902-0627 or Dauphin County 9-1-1- communications center at 717-558-6900.

No further information was available Monday night.