Four games, three shutouts: Defense, special teams lead LD to a 24-0 win over Patriots
Posted 9/24/13
For the second straight season, Lower Dauphin is unbeaten through the first third of its schedule.The Falcons defeated Mid-Penn Conference Keystone Division foe Red Land, 24-0 at Hersheypark Stadium on Friday, Sept. 20 to keep their …
Four games, three shutouts: Defense, special teams lead LD to a 24-0 win over Patriots
Posted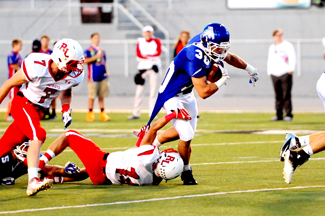 For the second straight season, Lower Dauphin is unbeaten through the first third of its schedule.

The Falcons defeated Mid-Penn Conference Keystone Division foe Red Land, 24-0 at Hersheypark Stadium on Friday, Sept. 20 to keep their record unblemished heading into the heart of their divisional slate.

It took Lower Dauphin (4-0, 1-0 in the Keystone Division) just seconds to get on the board as senior Nate Dorwart returned the opening kickoff 96 yards for a touchdown. Kicker Joe Julius put his extra point attempt through the uprights and gave the Falcons a 7-0 lead less than 15 seconds into the game.

Lower Dauphin Coach Rob Klock discussed the strong play of his squad's special teams so far this season.

You can read the full story in our printed edition or our e-Edition.
Comments