Holy rout!: Rollers get revenge, dismantle Trinity, 51-0
Posted 9/24/13
Beating Trinity is a feat that hadn't been reached since Steelton-Highspire won the state championship in 2008. For Steel-High's seniors, it was their last opportunity on Friday, Sept. 20 on the Shamrocks' turf in Camp Hill.The Rollers …
Holy rout!: Rollers get revenge, dismantle Trinity, 51-0
Posted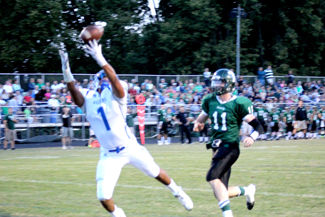 Beating Trinity is a feat that hadn't been reached since Steelton-Highspire won the state championship in 2008. For Steel-High's seniors, it was their last opportunity on Friday, Sept. 20 on the Shamrocks' turf in Camp Hill.

The Rollers didn't just overcome an opponent that handed the team losses year to year, they slaughtered them, 51-0.

If it wasn't clear coming off of last week's come-from-behind win over Pius X in overtime that this batch of Rollers was solid, it became clear after Friday night's shutout.

Quarterback James Warren was the driving force in the Rollers scoring with four touchdowns, with Jaki Haywood, Logan Davis and Quentin Taylor-Porter also adding a touchdown each. Offensive scoring may thrill the crowd, but Steel-High's defense was a huge factor in the victory.


You can read the full story in our printed edition or our e-Edition.
Comments