IRON MEN: LD beats Raiders, 38-0 claim Iron Spike Bowl
Posted 9/3/13
Without question the 2013 scholastic football season could have gotten off to a better start for Middletown's new head coach, Brett Myers. But Lower Dauphin's defense made sure that Myers' first win at the Blue Raider helm would not …
IRON MEN: LD beats Raiders, 38-0 claim Iron Spike Bowl
Posted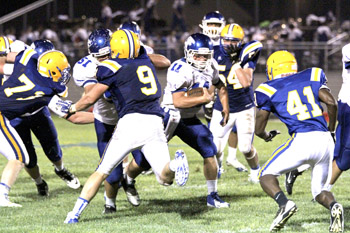 Photo by Phil Hrobak Playing in front of a packed War Memorial Field crowd, the Backyard Rivals kicked off the new season on Friday, Aug. 30 and went at each other the way rivals do. Lower Dauphin rode a big second half to a 38-0 victory in Myers' debut.

At halftime, the Falcons (1-0) clung to an 8-0 lead after recording a safety in the first quarter and producing a pair of Joe Julius field goals in the second. At that point, the Raiders (0-1) were still in the game and were hoping for a better second half.

But, due mainly to Lower Dauphin's dominating defense, Middletown saw everything simply fall apart after the intermission.

Turnovers and mistakes led to a 30-point outburst by the Falcons in the final two quarters.

The Raiders were playing without the services of a couple starting linemen as it was – and, to make matters worse, quarterback Nathan Ocker left the game with just over 7:00 left in the third quarter with an injury. Ocker's injury was diagnosed as a high ankle sprain and he will miss 2-4 weeks of playing time because of it. His loss forces Myers and his staff to make some adjustments to the offense for the coming weeks.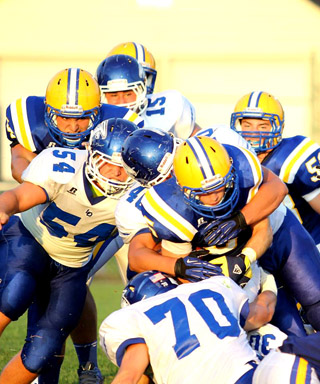 Photo by Jodi Ocker Middletown running back Josh Matinchek (5) plows through the Lower Dauphin defense. In pre-season reports, Lower Dauphin Coach Rob Klock talked about his defense, and that unit turned out to be very good. "I hope we don't see a defense that good the rest of the year," Myers said after the loss.

Despite the setback, Myers was not totally disillusioned.

"We're young," he said, noting that replacement center and starting linebacker Caleb Leggore is a sophomore, and offensive tackle Tommy Staker is a freshman. In fact, just one senior, guard Nick Drawbaugh, started on the offensive line for Middletown.

As the game progressed, it was obvious that the youthful Middletown offense simply could not move the ball with any consistency against Lower Dauphin's superior defense. The Falcons were led on defense by end Trey Klock, tackles Corey Atkins and David Wuestner and linebackers Dalton Yentsch, George Hatalowich and Ryan Lilliock.

The Raiders dodged one bullet in the opening quarter when Falcon quarterback Troy Spencer lost the ball at the end of a 51-yard run and Middletown recovered at its 1-yard line. But three plays later, Middletown's Josh Matinchek was tackled in the end zone for a safety and the Falcons went up 2-0.
---


Middletown's Osman Kamara and Steven Cain sacked Spencer for a 5-yard loss three plays into Lower Dauphin's next offensive series and Drawbaugh dropped him for a 1-yard loss on fourth-down-and-4 to keep the Falcons out of the end zone.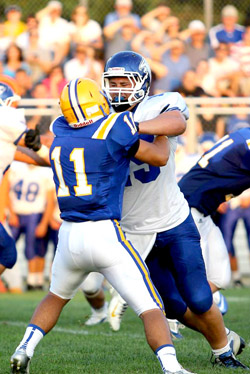 Middletown's Seth Babil (11) faces off against Lower Dauphin's Trey Klock, who has committed to Georgia Tech next year.

A 10-yard run by the Raiders' Chris Holloman and an 8-yard pass from Ocker to Matinchek followed by a personal foul penalty against the Falcons gave the Raiders some momentum. But the Falcon defense held, forcing a punt.
A 64-yard run by the Falcons' David Hamaty pushed the visitors deep into Raider territory as the opening period wound down. The first quarter ended with the score standing at 2-0.

Five plays into the second stanza, Julius booted a 21-yard field goal that gave the Falcons a 5-0 lead.

A pass interception by LD's Adam Domovich stopped one Middletown drive, and a Falcon punt that was downed at the Middletown 1-yard line pushed the Raiders into a deep hole with 2:13 left in the first half. After gaining just 6 yards on three runs, the Raiders were forced to punt.

An interference penalty on the return set the Falcons up at the Middletown 30-yard line. With three seconds left in the first half, Julius kicked a 23-yard field goal and the guests owned an 8-0 edge at halftime.

The Raiders took the second-half kickoff hoping to make something happen, and they picked up a first down on a 10-yard pass from Ocker to Mel Fager. But Ocker's next throw, an intended middle screen, was picked off by Klock at the Raider 44-yard line.

Yentsch carried the ball three times for 40 yards, including a 3-yard touchdown dash with 8:33 left in the third quarter.

Down 15-0, the Raiders were still not out of it. But they fumbled two plays into their ensuing offensive possession, a mistake that Lower Dauphin turned into another touchdown – a 6-yard run by Spencer with 7:28 left in the third.

Middletown's next possession started at the Raider 25-yard line – and double disaster struck two plays later. Forced to chase down a high center snap that bounced all the way to the end zone, Ocker scooped in the ball to prevent a defensive touchdown by the Falcons. While he was down a Falcon player landed on him, leaving the junior quarterback writhing on the ground in pain. The Falcons picked up 2 more points on another safety and the Raiders lost Ocker for the game.

The Falcons came right back with a six-play, 37-yard scoring drive to pad their lead to 31-0 with 4:19 left in the third quarter.

Early in the fourth quarter, Lower Dauphin scored again on a 3-yard run by Kalob Ware to go up 38-0 and set the mercy clock in motion.

The Raiders had one more chance to put points on the board but only made it as far as their own 33-yard line before running out of steam.

Larry Etter can be reached at larryetter66@gmail.com


Comments