Killian takes third place in PIAA championships
Posted 3/12/13
Photo by Ken Ulerick Middletown's Bryce Killian (yellow) won four consecutive bouts in the consolation bracket of the 132-pound class of the PIAA Class AAA championships to finish third in his weight class.Middletown's Bryce Killian won third …
Killian takes third place in PIAA championships
Posted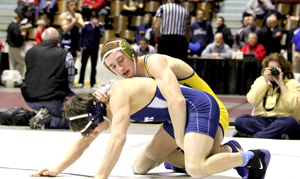 Photo by Ken Ulerick Middletown's Bryce Killian (yellow) won four consecutive bouts in the consolation bracket of the 132-pound class of the PIAA Class AAA championships to finish third in his weight class.Middletown's Bryce Killian won third place in the 132-pound weight class of the PIAA Class AAA wrestling championships on Saturday, March 9, winning four consecutive bouts in the consolation bracket to claim the bronze medal.
Killian won by major decision over Francesco Fabozzi of Central Bucks East, 11-3, in the consolation championship match at the Giant Center in Hershey to claim third place.
To get there, Killian shut out Altoona's David Hollingshead, 5-0, eliminated Clearfield's Christian Stone, 4-3, and won by technical fall over North Hills' Drew Walker, 15-0 in the consolation round.
Killian lost a close match to eventual champion Tyler Smith of Franklin Regional, 4-3, in the first round of the 132-pound class on Thursday, March 7. Smith went on to defeat Patrick Duggan of Cumberland Valley, 5-3 for first place in the weight class.
Middletown's other wrestler in the state championships, Zach Ulerick, won a first-round bout against Joel Bowers of Punxsutawney, 4-2, in the 120-pound weight class. He lost a second-round bout to Zach Valley of Northampton, 2-1, then lost a consolation round bout to Ronnie Perry of Solanco, 3-1.
Ulerick won the District 3 title in his weight class, while Killian finished second in the District 3 championships.
Comments