LD routs Bears with "total team effort," 48-0
Posted 9/17/13
Falcon defense limits Elizabethtown offense to only 42 yards
Photos by John Diffenderfer Lower Dauphin running back Dalton Yentsch (30) breaks past two Elizabethtown defenders. Yentsch scored a touchdown in the Falcons' …
LD routs Bears with "total team effort," 48-0
Posted
Falcon defense limits Elizabethtown offense to only 42 yards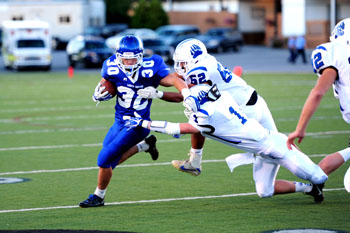 Photos by John Diffenderfer Lower Dauphin running back Dalton Yentsch (30) breaks past two Elizabethtown defenders. Yentsch scored a touchdown in the Falcons' win over the Bears.Total domination.
That's the only way to describe Lower Dauphin's 48-0 shellacking of Elizabethtown at Hersheypark Stadium on Saturday, Sept. 14.
Offensively, the Falcons (3-0) racked up 265 total yards and the defense allowed just 42 yards en route to the team's most lopsided victory of the young season.
You can read the full story in our printed edition or our e-Edition.
Comments