Local 10U team wins Duncannon tournament
Posted 7/8/14
The Suburban Girls' Softball League's 10-and-under softball team won the Duncannon Firecracker slow-pitch tournament on Sunday, June 29 to Tuesday, July 1.The team, featuring players from Londonderry Twp., Lower Swatara Twp. and Hummelstown, …
Local 10U team wins Duncannon tournament
Posted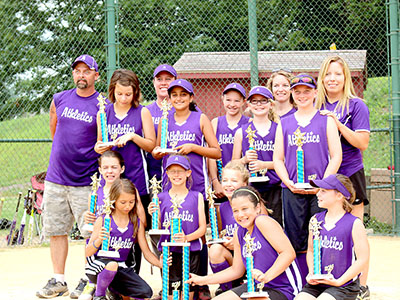 The Suburban Girls' Softball League's 10-and-under softball team won the Duncannon Firecracker slow-pitch tournament on Sunday, June 29 to Tuesday, July 1.
The team, featuring players from Londonderry Twp., Lower Swatara Twp. and Hummelstown, defeated Newport, 6-5 in extra innings, coming back from an early deficit to win the game.
Team members were:
Madison White, Hailey Herneisey, Jenna Alford, Serina Gurm, Lacey Zimmerman, Nieves Kohout, Christine Miller, Madison Riccio, Lilliana Oyler, Alexsys Smith and Mia Etnoyer.
The coaches were Mike Varner, Jen Herneisey, Pam Zimmerman and Casey Riccio.
The league will hold sign-ups for players again next winter.
Comments