MASTER THIEVES: Panthers' steals throttle Falcons as East ousts LD from playoffs
Posted 2/19/13
The Lower Dauphin boys' basketball team put up a good fight in its first District 3 playoff game in a couple years, but it wasn't enough against Central Dauphin East on Friday, Feb. 15 in Hummelstown.The Falcons' 78-56 loss to the Panthers in …
MASTER THIEVES: Panthers' steals throttle Falcons as East ousts LD from playoffs
Posted
Kaylor Kulina led Lower Dauphin with 15 points, Luke Rutledge added 13 points and three assists and Jack Miller added 11 points and 10 rebounds. It wasn't enough against the Panthers, who kept the lead the entire game.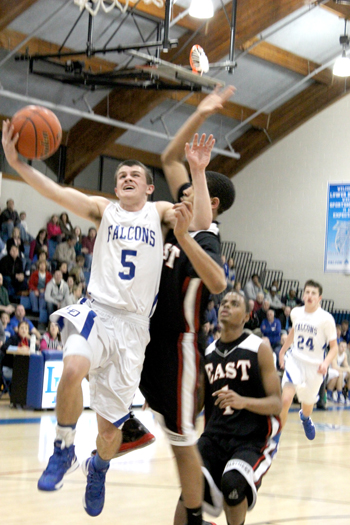 Press And Journal Photo by Noelle Barrett- Lower Dauphin's Kaylor Kulina (5) drives down the lane against the Central Dauphin East defense in a District 3 Class AAAA playoff game in Hummelstown.

CD East took a 4-0 lead in the first two minutes of the game on two shots fired by Eddie Cowan. Kulina made a quick steal and scored a basket with 6:00 on the clock, but Anthony Wright and Siele Johnson each hit two free throws to double the Panthers' lead, 8-2.

Early on, Lower Dauphin struggled to get the ball down the court on offense against the Panthers' defense, and CD East took advantage of the Falcons' flaw. A steal by Wright and a layup gave the Panthers a 10-2 lead with 4:57 left.

Miller sank one of two free throws, but after CD knocked the ball out of bounds, Kulina missed a 3-pointer. The Panthers rebounded, but a traveling call gave the Falcons a chance to tighten the gap. Kulina nailed a 3-pointer, and the Falcons only trailed 10-6 with 4:10 on the clock.

It took the Panthers only 15 seconds to tack on more points, with a shot from downtown by Dwight Whitlock.

Two back-to-back steals by CD East led to layups by Wright and Johnson that gave the Panthers a 10-point lead, 19-9 in the first quarter. Free throws by Tommy Bowen and Miller brought the Falcons to within 19-12 at the end of the first.

CD East continued to be a defensive powerhouse in the second quarter, with rebounds and steals that set the tone for the rest of the game. Before Lower Dauphin could even take the ball to its side of the court, Wright made a quick steal and layup for a 22-12 lead. Miller made two free throws, but the Panthers made another steal, and a bucket by Johnson lifted CD East to a 24-12 lead.
---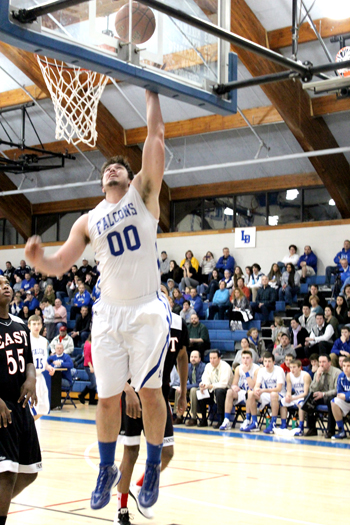 Lower Dauphin's Jack Miller (00) scores from underneath the basket against Central Dauphin East in a first-round District 3 playoff loss.Bowen made a bucket, but Lower Dauphin lost the ball to another Panther steal on its next possession. CD East's Joe Lemelle took the ball up the court with no opposition on a layup.

At the 5:00 mark of the second quarter, Lower Dauphin's Rutledge hit a 3-pointer, but CD East rallied, tacking on 9 points in the next two minutes while the Falcons could only muster one free throw.

In the final seconds of the first half, Kulina dropped a bomb for 3 points, but the Falcons trailed 42-28.

In the second half, Lower Dauphin kept pace with the Panthers, but it was never enough to get ahead.

CD East continued to have a slight edge over the Falcons on defense. After both teams added a basket, Lemelle made a steal, passing off to Wright for a basket. Miller scored a bucket with 5:50 left, but CD East took over. Wright's two free throws gave the Panthers a 55-32 lead with under four minutes left in the third quarter.

Lower Dauphin stopped the streak with 3 points by Ryan Naccarato. CD East added a bucket, but Naccarato hit another basket from downtown. With 52.1 seconds left in the quarter, Kulina hit another 3-pointer, and the Falcons trailed by 16, 57-41.

With just 8:00 left in the game, the Falcons felt the pressure, as did Coach Mark Hofsass. A minute after receiving a technical foul, Hofsass stood up from the bench during a disagreement over a call. This prompted a second technical foul, and the third came immediately after. Hofsass was ejected from the game and Johnson nailed four of the six shots as a result, giving CD East a 20-point lead, 65-45, with 6:48 left.

Lower Dauphin got into a rhythm, scoring 11 more points, making a few steals and getting past the Panthers' defensive, but it wasn't enough. Early mistakes proved to be fatal.

The Falcons' season ended with a record of 14-9. CD East (11-12) moved on to play top-seeded Harrisburg in the second round.

Noelle Barrett: 717-944-4628, or noellebarrett@pressandjournal.com
Comments