MEAN MACHINE
Posted 11/19/13
LD's stifling defense, relentless offense show Exeter the exit, 28-0
"Like a machine."
That phrase was first uttered by Lower Dauphin's seniors when the group met at the team's goal-building retreat …
MEAN MACHINE
Posted
LD's stifling defense, relentless offense show Exeter the exit, 28-0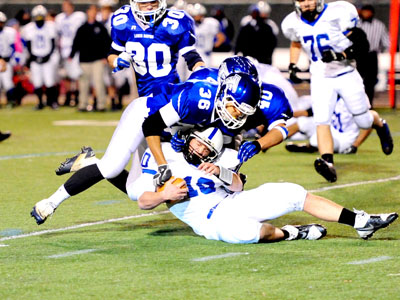 "Like a machine."


That phrase was first uttered by Lower Dauphin's seniors when the group met at the team's goal-building retreat last May. They wanted the 2013 version of their football team to execute like a machine; to be precise, consistent and dominant.


It summed up the Falcons' performance in their District 3 Class AAAA playoff game against Exeter Twp. on Friday, Nov. 15. Lower Dauphin blanked Exeter 28-0 in the quarterfinal matchup, propelling the Falcons (11-1) into a semifinal showdown with defending District 3 champion Wilson (12-0) at 7 p.m. on Friday, Nov. 22 in West Lawn.


Lower Dauphin Coach Rob Klock said he expects "an old-fashioned smash-mouth football game.''


"We are very excited to be here," said Lower Dauphin Coach Rob Klock. "Wilson is a physical football team. They vary their defensive fronts on almost every play and we will need to prepare for several different looks.''
You can read the full story in our printed edition or our e-Edition.
Comments