MIDDLETOWN BOYS' TENNIS: Raiders clinch winning season, move to playoffs
Posted 4/23/13
Bill Fair wasn't sure he would coach the Middletown boys' tennis team this season. Nursing a bad shoulder, and already having coached for 14 years, he was seriously considering hanging up his racket – until he was persuaded by the …
MIDDLETOWN BOYS' TENNIS: Raiders clinch winning season, move to playoffs
Posted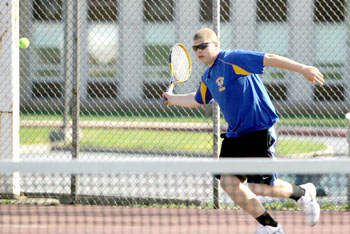 Bill Fair wasn't sure he would coach the Middletown boys' tennis team this season. Nursing a bad shoulder, and already having coached for 14 years, he was seriously considering hanging up his racket – until he was persuaded by the Middletown Area School Board to return.

He's glad he did . . .
You can read the full story in our printed edition or our e-Edition.
Comments