Middletown, LD athletes win medals at championships
Posted 5/13/14
Two Lower Dauphin athletes won first-place medals and three Middletown athletes won second-place medals in the Mid-Penn Conference Track and Field Championships on Saturday, May 10 at Chambersburg High School.Photo by Jodi Ocker …
Middletown, LD athletes win medals at championships
Posted
Two Lower Dauphin athletes won first-place medals and three Middletown athletes won second-place medals in the Mid-Penn Conference Track and Field Championships on Saturday, May 10 at Chambersburg High School.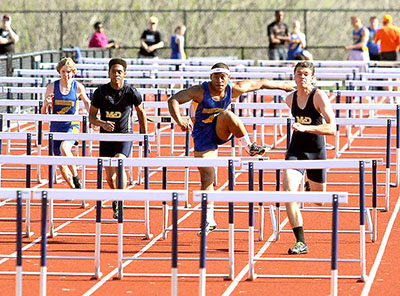 Photo by Jodi Ocker - Middletown's Christopher Holloman, second from right, clears a hurdle against Bishop McDevitt.
Lower Dauphin's Ben Ross won the boys' discus throw with a throw of 145 feet 6 inches, while teammate Jeff Groh won the boys' 3,200-meter run with a time of 9:33.04.
Ross also finished fourth in the boys' shot put and in the boys' javelin throw, while Groh also finished third in the 1,600 meter run.
Middletown's Levi Varner took second place in the boys' pole vault with a vault of 13 feet. Hershey's Stephen Minto won with a vault of 13 feet 6 inches.
Middletown's Brianna Bennett took second place in the girls' shot put with a throw of 36 feet 1.25 inches. Bennett also finished fifth in the discus throw with a throw of 103 feet 5 inches and sixth in the discus.
For the full story, CLICK HERE to subscribe to the Press And Journal.
Comments