Nathan Ocker, PA all-stars face Maryland in Big 26 Classic
Posted 7/15/14
Middletown pitcher Nathan Ocker will pitch for an all-star team of Pennsylvania high school players as it challenges an all-star team from Maryland in the three-game Big 26 Baseball Classic from Friday, July 18 to Sunday, July 20 at Metro Bank Park …
Nathan Ocker, PA all-stars face Maryland in Big 26 Classic
Posted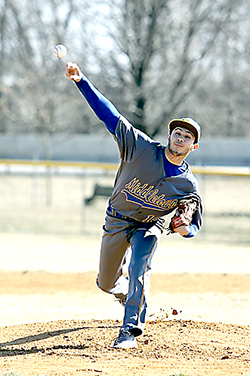 Middletown pitcher Nathan Ocker will pitch for an all-star team of Pennsylvania high school players as it challenges an all-star team from Maryland in the three-game Big 26 Baseball Classic from Friday, July 18 to Sunday, July 20 at Metro Bank Park in Harrisburg.

The three-game series includes a tryout in front of college coaches and Major League Baseball scouts.

Ocker, a member of Middletown Area High School's impressive pitching staff last season, has given a verbal commitment to the College of Charleston, a Division I baseball school that finished its 2014 season ranked No. 16 in the country by the newspaper Collegiate Baseball. It marked the Cougars' highest ranking since the team finished at No. 12 in 2006.

Charleston (44-19) won the Colonial Athletic Conference tournament, then swept Florida and Long Beach State to win the NCAA Gainsville Regional Tournament, the first step toward the college World Series. The Cougars advanced to the NCAA Super Regional in Lubbock, Texas, where they were swept by Texas Tech in identical 1-0 losses.

Charleston finished the season ranked No. 17 by Baseball America and the National Collegiate Baseball Writers Association.

The first game of the Big 26 Baseball Classic will begin at 7:05 p.m. on Friday. Games Saturday and Sunday will begin at 1:35 p.m.
Comments