New Year's Day blaze destroys Demp's
Posted 1/8/13
By Daniel WalmerPress And Journal Staff
Ron Stetler awoke around 3 a.m. New Year's Day to the sound of people pounding on the doors of the building that housed Demp's Corner Pub in Middletown. He figured it was a fight.
Then he saw the …
New Year's Day blaze destroys Demp's
Posted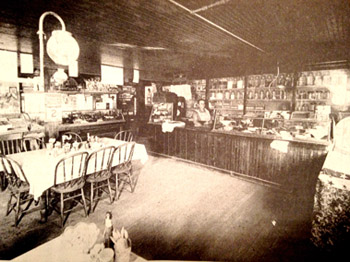 Press And Journal File Photo- 1912- The Isaac Espenshade Quick Lunch Restaurant, with a gaslight, plank bottom chairs and the owner's wife, Mellie, behind the counter."Man, it was glowing like hell over there,'' recalled Stetler. "That thing was cooking.''

The blaze destroyed Demp's, a two-centuries-old landmark at East Main and Race streets, on Tuesday, Jan. 1. No one was injured by the fire, although one firefighter was treated for an unknown medical condition, said Fire Chief Ken Whitebread.
The cause of the fire has not yet been determined, but it "definitely seems accidental" and not suspicious, said deputy fire marshal Harry Cleland.

One person jumped from the building's porch roof into the arms of three neighbors to escape the blaze.

Daniel Shaffer, Nick Klinepeter and Mike Gallagher had planned to spend their morning cleaning up from a New Year's Eve party at a nearby house and going to bed, but fate had different plans.

"Next thing you know, we saw pretty big flames coming from the roof of Demp's," Shaffer said. "We figured nobody had heard about it. We didn't hear any fire trucks or anything."

So the three of them ran to the burning building.

"It was weird, it was kind of just instinct to go down and see if anybody needed some help," he said.
Turns out somebody did.
Photo by Don Graham

"We saw him out on the roof. We told him, 'just jump, we'll catch you,' " said Shaffer. "If push came to shove, he probably would have jumped down himself, but I'm sure he wasn't looking forward to jumping off a 20-foot roof."

The man, who was the only person trapped in the building, was somewhat in shock but "very thankful" for the rescue, Shaffer said.

The fire was primarily contained to the one building, which contains the pub and apartments - although there was some fire damage to the roof of an attached apartment building, Whitebread said.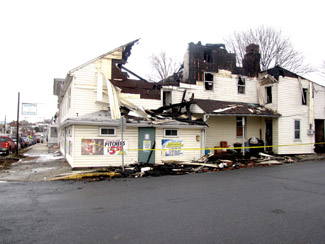 Photo by Dan WalmerThe attached apartments were evacuated, he said. The American Red Cross assisted seven families affected by the fire, including 10 adults and two children, according to Central Pennsylvania spokeswoman Kathy Smyser.

Middletown Volunteer Fire Deparment was dispatched to the scene at 2:59 a.m., Whitebread said, and was eventually joined by Lower Swatara, Londonderry, Highspire, Hummelstown, Hershey, Elizabethtown, Colonial Park and Bressler fire departments and South Central EMS.

Mount Joy and Palmyra fire departments were on standby, he said.

The current owner could not be reached for comment.

Spared because of its location from the 1910 fire that destroyed most of downtown Middletown, the building was one of Middletown's oldest businesses.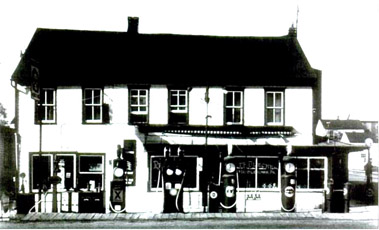 Photo/Middletown Public Library The Jacob Blecher Restaurant, with gas pumps out front, replaced Espenshade's establishment.

The intersection of Main and Race streets was "one of the town's oldest business locations," according to the book "Images of America: Middletown Borough," and the general store at its northwest corner was built in the late 1700s or early 1800s. A stonecutter's shop was also housed in the building, according to the book "Chronicles of Middletown.''

During the 1900s, the building housed a succession of restaurants, including the Isaac Espenshade Quick Lunch Restaurant, the Jacob Blecher Restaurant (also known as the East End Restaurant), Siler's Bar and Demp's.

Michelle Bryan-Phillips' grandparents, Gus and Lena Benko, bought Siler's Bar in 1956 and owned it for 17 years, until 1973. The bar had Carling Black Label on tap, and was known for its fish sandwiches on Fridays. Its annual pig roast was popular in town.

Lena Benko, now 94, was crushed to hear about the fire, said Bryan-Phillips.

"She couldn't believe it burned like that,'' said Bryan-Phillips. "It had a lot of memories for her, but she said it was a lot of good memories.''

While the pub's current owner and the affected tenants will no doubt feel the tragedy of the fire most keenly, at least one Demp's patron is also saddened by the news.

Adam Gadley used to attend the pub regularly.

"The people there just seemed friendlier than those at the other bars in town," Gadley said in a Facebook message. "Though it wasn't the nicest looking place to drink, I never had a bad experience there."
Daniel Walmer: 717-944-4628, or danielwalmer@pressandjournal.com