Ocker, Sims combine for perfect game
Posted 8/6/13
Photos by Jodi Ocker Middletown's representatives on the Capital Region baseball team, the silver medalists in the Keystone State Games, were, from left, Zack Sims, Nathan Ocker and Jordan Flowers.Middletown pitchers Nathan Ocker and Zack Sims …
Ocker, Sims combine for perfect game
Posted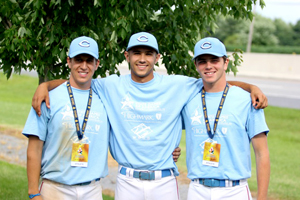 Photos by Jodi Ocker Middletown's representatives on the Capital Region baseball team, the silver medalists in the Keystone State Games, were, from left, Zack Sims, Nathan Ocker and Jordan Flowers.Middletown pitchers Nathan Ocker and Zack Sims combined to throw a perfect game during the Capital Region team's silver medal campaign in the Keystone State Games from Thursday, July 31 to Sunday, Aug. 4.
Ocker and Sims teamed up to shut out Pocono Region, 4-0, on Thursday. The pitchers gave up no runs, no hits and no walks, and Capital committed no errors.
Capital Region lost the gold medal to Team West in a forfeit on Sunday at Penn State Harrisburg. Ocker, Capital's starting pitcher, took a 3-2 lead into eighth inning of the extra-inning game, and recorded the first out of the bottom of the inning on a popup to first. But a new tournament rule limiting pitchers to seven innings on one day was imposed – the Team West coach carried a copy of the rule from his dugout after the popup was caught – and the home plate umpire cleared Capital's players from the field and declared West the winner.
Capital coach Doug Chestnut called the forfeit "my bad.''
"It's my responsibility and I didn't review it,'' Chestnut told PennLive.com.
Middletown player Jordan Flowers joined Ocker and Sims on the silver medal team.
In the Games' Junior Division baseball tournament, Middletown's Jimmy Fitzpatrick, a pitcher and catcher, was a member of the Capital Region team that won the bronze medal.{jcomments on}
Comments