ONE WIN SHORT? Raiders teetering on playoff brink after six-game split
Posted 5/13/14
Last week started off great for the Middletown baseball team, as the Blue Raiders routed Milton Hershey and Harrisburg – twice – to win their seventh, eighth and ninth games of the season.Photo by Jodi Ocker - Middletown's Nathan Ocker (10) …
ONE WIN SHORT? Raiders teetering on playoff brink after six-game split
Posted
Last week started off great for the Middletown baseball team, as the Blue Raiders routed Milton Hershey and Harrisburg – twice – to win their seventh, eighth and ninth games of the season.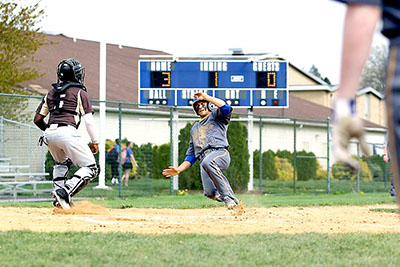 Photo by Jodi Ocker - Middletown's Nathan Ocker (10) slides into home plate as the Spartans' catcher awaits a throw.
But everything went downhill from there. The Raiders lost to Lower Dauphin on Thursday, May 8 and a then dropped a pair of games at Greencastle-Antrim on Saturday, May 10. The losses nearly sealed the fate of the Raiders, who needed at least one more victory to have a shot at qualifying for District 3 postseason playoffs.
Heading into the fateful three-game stretch, the Raiders sat in the final qualifying spot in the District 3 Class AAA power rankings with a 9-8 record – and faced strong odds against them. Lower Dauphin, a team that had already locked up the Keystone Division title in the Mid-Penn Conference, was ranked as the No. 2 team in the AAAA power rankings, and Greencastle-Antrim, winners of the Colonial Division, was rated as the No. 3 team in AAA. As it turned out, both teams justified those rankings in dealing the crushing setbacks to the Middletown squad.
For the full story, CLICK HERE to subscribe to the Press And Journal.
Comments