Out & About: Penn State Harrisburg's Easter Egg Hunt
Posted 4/5/16
Press And Journal Photo by Jim Lewis -- Members of Lion Ambassadors, who organized the hunt, from left: back row, Kenshay Kerr, Emily Antonio, the Lion, Alyssa Subsinsky, Ami Bockarie and Janay Parker; middle row, Jordyn Palm, Megan Bigelow and …
Out & About: Penn State Harrisburg's Easter Egg Hunt
Posted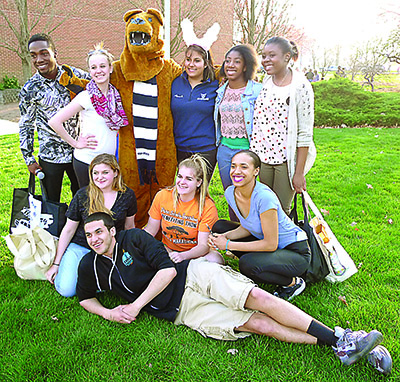 Press And Journal Photo by Jim Lewis -- Members of Lion Ambassadors, who organized the hunt, from left: back row, Kenshay Kerr, Emily Antonio, the Lion, Alyssa Subsinsky, Ami Bockarie and Janay Parker; middle row, Jordyn Palm, Megan Bigelow and Savannah Younginer; and, front row, Abs Abuolba.
There were lots of kids and lots of eggs and lots of candy.

Penn State Harrisburg's Easter Egg Hunt, organized by the Lion Ambassadors, a student organization that promotes pride in the university, was a frantic dash by eager youngsters armed with baskets and bags and containers of all sizes.

Children from the community and kids with family members working at the university lined up for the hunt, held on Thursday, March 24 behind the Olmsted Building on campus. Kids had the chance to meet and pose for photos with the Lion, the university's mascot.
For more Press And Journal photos by Jim Lewis, see our print edition or click here for our E-edition
{jcomments on}