Powerful Central Catholic ends Falcons' dream season, 45-0
Posted 12/10/13
Viking defense holds LD's running game to 1 yard in PIAA semifinal in Altoona
Lower Dauphin's dream season ended in Altoona, beneath lightly falling snow and a blizzard of big, strong runners, blockers and rushers …
Powerful Central Catholic ends Falcons' dream season, 45-0
Posted
Viking defense holds LD's running game to 1 yard in PIAA semifinal in Altoona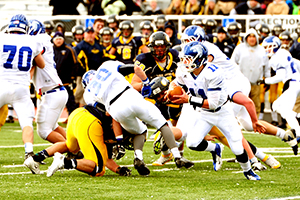 Lower Dauphin's dream season ended in Altoona, beneath lightly falling snow and a blizzard of big, strong runners, blockers and rushers from Pittsburgh Central Catholic.

The Falcons fell in the PIAA Class AAAA playoff semifinals to the Vikings, 45-0, on Saturday, Dec. 7 at Altoona's Mansion Park. The Vikings powered their way through Lower Dauphin's vaunted defense and stopped Lower Dauphin's grinding running game, grabbing a 31-0 lead at halftime and advancing to the state championship game against St. Joseph's Prep at 6 p.m. on Saturday, Dec. 14 at Hersheypark Stadium.

For the Falcons, the loss ended a rather historic season. Lower Dauphin won the District 3 Class AAAA title for the first time in 18 years, and compiled a 13-1 record, including six shutouts, going into the game against Central Catholic. But the District 7 champs, whose alumni includes former NFL star quarterback Dan Marino, were too much on Saturday.

"I think we ran into a buzz saw,'' said Falcon Coach Rob Klock. "That was a bigger, more physical team than we are.''

Which says a lot, considering how Lower Dauphin rode great blocking on their offensive line and a big defensive line to success this year.

You can read the full story in our printed edition or our e-Edition.

Comments