Raider win 3 of 4, move over .500
Posted 4/30/13
Emily Mattes and Sara Gossard hit solo homeruns as Middletown beat Reading, 7-1 in softball on Friday, April 26 in Middletown.
Raider win 3 of 4, move over .500
Posted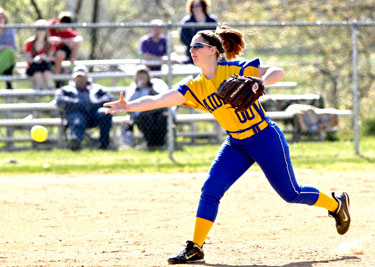 Middletown second baseman Sarah Gossard, above, tosses the ball to first base for an out in a 7-1 win over Reading that improved the Blue Raiders' record to 7-6 overall. The victory gave the Blue Raiders a winning record at 7-6. Middletown is in 18th place in the District 3 Class AAA softball power rankings – the top 16 teams qualify for the district playoffs.
The win capped a successful week for the Raiders, as Middletown won three of four games.
Middletown rallied for 8 runs in the seventh inning to defeat Keystone Division rival Palmyra, 10-7, on Thursday, April 25 in Lebanon County. The Raiders improved their division record to 4-5, while Palmyra fell to 4-4 and 8-5 overall.
Middletown lost a pitcher's duel to Susquehanna Twp., 1-0 on Tuesday, April 23. Gossard surrendered only six hits, while Susquehanna pitcher Allison Huntman gave up just two hits to the Raiders.
The Indians (9-5, 6-3 in the division) broke a scoreless tie with a run in the sixth inning.
Middletown downed Milton Hershey, 4-2 on Monday, April 22. Gossard gave up just one hit to the Spartans (1-9).
Comments