Raiders defense stymies Spartans, 47-28
Posted 12/17/13
Photo by Don Graham Middletown's Bianca Jasper (1) dribbles the basketball against Milton Hershey. Opposing offenses, be warned: If the defensive display the Middletown girls' basketball team put on against Milton Hershey during home …
Raiders defense stymies Spartans, 47-28
Posted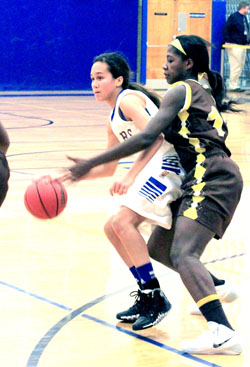 Photo by Don Graham Middletown's Bianca Jasper (1) dribbles the basketball against Milton Hershey. Opposing offenses, be warned: If the defensive display the Middletown girls' basketball team put on against Milton Hershey during home victory on Friday, Dec. 13 is any indication, points are going to be hard to come by against the Blue Raiders this year.

"That's what we're after this year," said Coach Chris Hunter. "We have four quick guards, so we're going to try to put pressure on other teams."

It certainly worked during Friday night's 47-28 win, as Milton Hershey struggled even to get off shots against the Middletown defense.

The Raiders (4-0, 2-0 in the Mid-Penn Conference Capital Division) forced 11 Spartan turnovers as a team, and sophomore Kassidy Deibler was particularly dominant on defense, compiling four steals and three blocks.

"I thought we shut their offense down because we took away their entry passes, and they gave us a lot of easy baskets off of turnovers," Hunter said.

Particularly encouraging for Middletown was the play of the team's freshmen and sophomore contributors. In addition to Deibler's effort, sophomore Jalynn Burton-Jones scored 17 points and still found time to notch three steals and seven rebounds, and freshman Bianca Jasper scored 9 points while recording five rebounds.

More experienced players helped ignite the Raiders as well, as junior Jey Rivera scored 11 points and junior Madison Ruby grabbed eight rebounds.

The 19-point victory would have been even more lopsided if not for a 9-0 run by the Spartans (0-3, 0-2) in the game's last 2:50.

The Raiders jumped in front with a dominant first quarter, leading the Spartans by a 20-8 score after the first eight minutes.

The outcome may still have been in doubt when the Raiders led 26-12 with 3:40 remaining in the first half, but the Middletown defense completely took over the game. The Raiders ended the second quarter on a 7-2 run, taking a 33-14 lead to the locker room.

In the third quarter, the stingy Raiders' defense permitted Milton Hershey just one free throw and no field goals as they outscored the Spartans 12-1 for a 45-15 lead.

"The first three quarters, I thought we played really well," Hunter said.

In particular, the Raiders did a good job of moving their feet and pressuring opposing players holding the basketball, he said.

Middletown 65, Camp Hill 54
Rivera scored a team-high 21 points and Burton-Jones scored 20 as the Raiders used a dominant third quarter to pull away from Camp Hill (1-3, 0-2).

Hallie Marion added 12 points for the Raiders.

Middletown outscored the Lions 22-12 in the third quarter, turning a 31-25 lead at halftime into a 53-37 lead going into the fourth quarter.

Daniel Walmer: 717-944-4628, or danielwalmer@pressandjournal.com
Comments