Raiders pound East Pennsboro, 18-8
Posted 3/25/14
Middletown bombarded East Pennsboro with 14 hits and scored in every inning to beat the Panthers, 18-8 in its season-opener on Friday, March 21 at Middletown.Photo by Don Graham - Middletown pitcher Sarah Gossard delivers a pitch during …
Raiders pound East Pennsboro, 18-8
Posted
Middletown bombarded East Pennsboro with 14 hits and scored in every inning to beat the Panthers, 18-8 in its season-opener on Friday, March 21 at Middletown.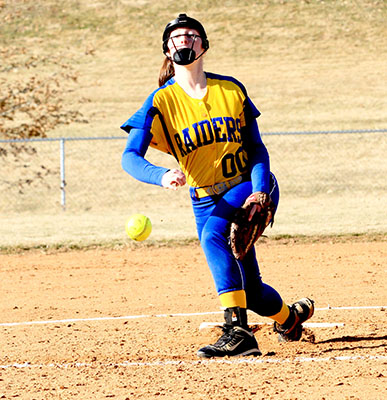 Photo by Don Graham - Middletown pitcher Sarah Gossard delivers a pitch during her first victory of the new season.
The Blue Raiders (1-0) overcame an early 2-0 deficit with a three-run first inning, and pounded East Pennsboro (0-1) early and often.
The Raiders scored four more runs in the second, three in the third and four in the fourth, chasing Panther starting pitcher Jamie Bolig and taking a 14-5 lead into the fifth. East Pennsboro never recovered from Middletown's offensive blitz. Bolig hit a solo homerun in the sixth inning, the only homer of the game, but it wasn't enough to rally the Panthers.
Sarah Gossard pitched a complete game for Middletown.
The Raiders had 14 hits in the game, compared to 10 for East Pennsboro.
Middletown's defense, a sore spot last season during a 10-10 campaign, committed eight errors against the Panthers, but Raider hitters more than made up for them at the plate.
Comments