Raiders still young, but more dangerous
Posted 12/3/13
Don't let their youth fool you: The Middletown girls' basketball team will be an experienced squad this season.
There's only one senior on the team, it's true – but their leading scorer from last season is now only …
Raiders still young, but more dangerous
Posted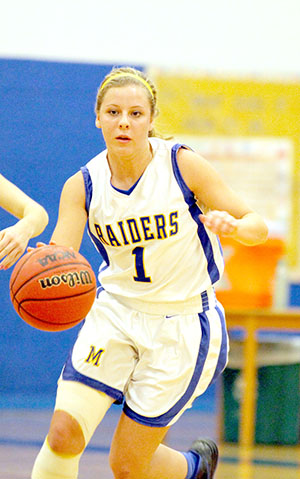 And there's a talented eighth-grader at the middle school who Coach Chris Hunter expects to contribute to the Blue Raiders next year. This team never seems to get older – it grows younger.

But Middletown returns almost everyone from a team that went 11-11 and just missed a District 3 Class AAA playoff spot last year.

"We're looking to turn a corner this year,'' Hunter said.

Young, small and quick, the Raiders hope to use a pressure defense to score points in transition. Defense was a weak spot for the young Raiders last season, but off-season workouts and maturity could make Middletown tougher, said Hunter.

"I'm hoping we can pressure the ball and wreak havoc,'' he said.

Why not? Of the five starters, four have played point guard. "They all can handle the basketball,'' Hunter said.

The Raiders' leading scorer a year ago, Jalynn Burton-Jones, returns after an impressive debut as a freshman. She'll be joined by two juniors who started last season – Jey Rivera and Halle Marion.

Senior Jordan Campbell is another starter who gives Middletown experience.

Freshman Bianca Jasper will probably start this year, Hunter said.

Others who should see playing time: Kassidy Deibler, Ava Mrakovich, Makensie Lombardi and Madison Ruby, according to Hunter.

The goal this year: Finish in the upper echelon of the Mid-Penn Conference Capital Division and make the playoffs.

"We're going to look to finish in the top part of our division and hope to bring Middletown its first division title,'' Hunter said.

Jim Lewis: 717-944-4628, or jimlewis@pressandjournal.com