Revenge is sweet for Lion women
Posted 1/8/13
Photos by Bill Darrah Penn State Harrisburg's Steph Yetter scores a basket after grabbing a rebound against SUNY-IT
By Adam Clay and Tom KlemickFor The Press And Journal
The Lady Lions showed true character and put forth a solid team …
Revenge is sweet for Lion women
Posted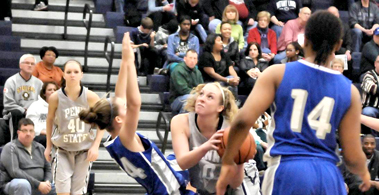 Photos by Bill Darrah Penn State Harrisburg's Steph Yetter scores a basket after grabbing a rebound against SUNY-IT

By Adam Clay and Tom Klemick
For The Press And Journal
The Lady Lions showed true character and put forth a solid team effort on their way to defeating the SUNY-IT Wildcats 87-68 on Saturday, Jan. 5 in Middletown.

The game was filled with intensity – fouls, scoring, and a great rivalry match. The Wildcats had given Penn State Harrisburg (8-2) its only loss in the North Eastern Athletic Conference last season . . .

You can read the full story in our printed edition or our e-Edition.