ROLL OUT THE BARREL: Free rain barrels an effort to control storm water runoff
Posted 8/20/13
At first glance, water might not seem like something that homeowners would need to collect. It's easily found in southern Dauphin County's many streams and pours out of our faucets and hoses on demand. But while water …
ROLL OUT THE BARREL: Free rain barrels an effort to control storm water runoff
Posted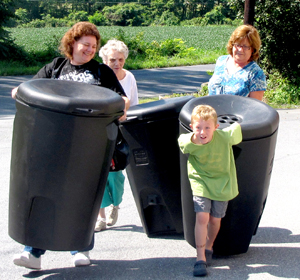 Press And Journal Photo by Daniel Walmer- Londonderry Twp. residents take free rain barrels to their cars after a rain barrel workshop at the Londonderry Twp. municipal building on Saturday, Aug. 17."I think we take water quality for granted all the time," Letavic said. "If we don't start to do something now to restore our watersheds … the water quality won't be there for our children and grandchildren. It just won't be."

That's why the Conewago Creek Initiative, a partnership of several local and regional organizations with the goal of improving the Conewago Creek watershed, is hoping to stop people from taking water for granted through educational and assistance programs – like a free rain barrel workshop held in Londonderry on Saturday, Aug. 17.

The program featured a presentation on storm water runoff prevention by Gil Hirschel, a Dauphin County Conservation District resource planner, after which residents could select a 65-gallon barrel – provided by the Initiative – that will collect rainwater as it drains off the rooftops of homes. The water can then be reused for purposes like washing cars – although it shouldn't be used for drinking, officials cautioned.

Township resident Loren Bowen attended the workshop for more than just the free rain barrel, although he thinks the barrel will be helpful.

"I wanted to learn about the conservation part of it, because it's important for the environment and for our kids," he said.
---

About 50 township residents packed the township municipal building's meeting room to hear Hirschel describe a variety of techniques that residents can use to limit the speed and volume of storm water runoff coming from their properties, from rain gardens that absorb it to downspout disconnections that redirect it to more absorbent areas.

"These are things that you can do to manage storm water and help out not just yourself, but everybody else," Hirschel said.

In addition to helping the environment, limiting runoff is essential to alleviating the flooding issues that have in recent years devastated the Susquehanna River water basin, which is one of the most flood-prone areas in the U.S., Hirschel said.

"The more [the water] can infiltrate, the more it can get in the ground, the more you can decrease the peak flow," he said. Decrease the peak flow of streams – both the volume and speed of water rushing into waterways at the height of a major storm – and you decrease the likelihood that streams will overflow and create flooding, he explained.

For the Conewago Creek Initiative, the free rain barrels are just one part of a larger campaign to improve the creek's watershed, which includes southern Dauphin County, southwestern Lebanon County and extreme northwestern Lancaster County.

"All of these initiatives are formed as partnerships with anyone and everyone who has an interest in water quality," said Kristen Kyler, a project assistant with the Initiative.

"It's a fantastic program," Letavic said, particularly praising the Initiative for planting trees along the Conewago Creek to create riparian buffers that prevent runoff and improve water quality.

"These programs are going back and restoring things to the way they were before man intervened and cut down the trees," he said.{jcomments on}