Rollers fall to Susquenita, beat Bears
Posted 12/17/13
Coming off a win against Northern York, the Steelton-Highspire girls' basketball team hoped to prove itself in the Roller Pit on Friday the 13th. But the day proved to be unlucky for the Rollers.Steel-High lost to Susquenita, 62-45 on Friday, Dec. …
Rollers fall to Susquenita, beat Bears
Posted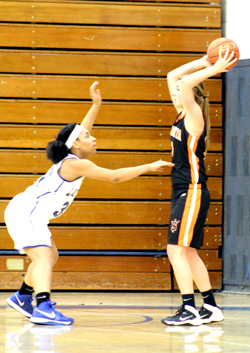 Coming off a win against Northern York, the Steelton-Highspire girls' basketball team hoped to prove itself in the Roller Pit on Friday the 13th. But the day proved to be unlucky for the Rollers.

Steel-High lost to Susquenita, 62-45 on Friday, Dec. 13. While the Rollers (2-2, 1-1 in the Mid-Penn Conference's Capital Division) made a run at the Blackhawks, especially in the third quarter, it was a little too late.

The offense was shared by a handful of Rollers, with senior Ceani Beaden leading the team in scoring with 13 points. I'Jianique Simmons added 10 points and Joslyn Hill added 8, including two 3-pointers.

From the gate, it was clear that the Rollers had a different approach from different years, with more passing and planning.

But there were moments when that quick Steel-High style peaked. Roller seniors Beaden and Marlin Sanchez stepped up as leaders on the court, but careless mistakes as a whole cost the Rollers the game.

For the full story, click here to subscribe to the Press And Journal.
Comments