Rollers smash Camp HIll, 62-6
Posted 11/5/13
Coming off a big win last week against Milton Hershey, Steelton-Highspire was eager to continue the momentum in their regular season finale on Friday, Nov. 1 on Cottage Hill. It was a night to remember, as the Rollers cruised on senior …
Rollers smash Camp HIll, 62-6
Posted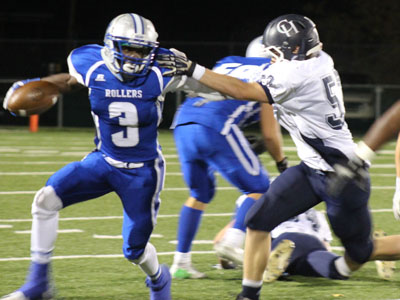 Coming off a big win last week against Milton Hershey, Steelton-Highspire was eager to continue the momentum in their regular season finale on Friday, Nov. 1 on Cottage Hill. It was a night to remember, as the Rollers cruised on senior night, racking up nine touchdowns and toppling Camp Hill 62-6.

Steel-High finished the regular season with a 9-1 record, good enough to earn the team a Nov. 15 playoff game on their home turf.

Shaheim Moody-Williams led the way, rushing for 195 yards and scoring twice, and Brett Clea added two touchdowns.

It wasn't an easy start for the Rollers - on their first possession, the team tallied six penalties. But even that didn't stop them from scoring. Zedaah Moffit scored the game's first points with a 3-yard drive into the end zone, giving Steelton-Highspire a 6-0 lead with 3:23 left in the opening quarter.

On the Lions' next possession, the Rollers were about to force a three-and-out, when more penalty trouble emerged - this time, an offside call that handed the Lions a first down. From there, the Roller defense kicked things up a notch, gaining back possession at the Lions' 44-yard line. The offense continued to move the ball down the field as the quarter ended.

You can read the full story in our printed edition or our e-Edition.

Comments