Ruth Librandi
Posted
Ruth E. Reigle Librandi, 97, of Middletown, passed away on Saturday, January 3, at Community General Osteopathic Hospital, Harrisburg.


She was the wife of the late Albert Librandi.


She was born in Highspire on November 1, 1917 and was the daughter of the late Clayton and Blanche Swisher Reigle.


Ruth worked at Middletown Roughwear for 19 years. She made bomber jackets during World War II and men's apparel. She was a seamstress her whole life, sewing up until just recently. Her greatest love was making doll clothes and spending precious time with her family. She was a member of Emmanuel United Methodist Church in Royalton and the United Methodist Women.


In addition to her parents and her husband, Ruth was preceded in death by son Ronald Librandi, and daughter Kathy Librandi, and two brothers Richard and William Reigle.


Ruth is survived by son Thomas C. Librandi and wife Judy of Middletown; daughter Nancy Librandi of California; six grandchildren Todd Librandi, Ronald Librandi, Geraldine Librandi, Jackie Ream, Laurie Mero, and Loni Benoist; seven great-grandchildren; three stepgreat-grandchildren; and one great-great-grandchild; sister Doris Noll of Lebanon; sister-in-law June Reigle of Middletown; and several nieces and nephews.


Services: 11 a.m. on Friday, January 9 at Emmanuel United Methodist Church, 500 Penn St., Middletown, with the Rev. Willie Caraballo officiating.


Viewing: 10 a.m. until time of the service on Friday at the church.


Burial will immediately follow the service and take place at Hillsdale Cemetery.


Memorial contributions may be made in Ruth's name to her church, 500 Penn St., Middletown, PA 17057.


The family has entrusted the care of the Matinchek and Daughter Funeral Home and Cremation Services, Middletown to handle the funeral arrangements.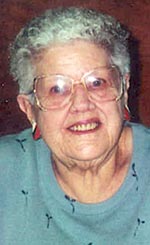 Condolences may be sent online at www.matinchekanddaughterfuneralhome.com.