Six Raider wrestlers qualify for chance at district championshp
Posted 2/19/13
Six Middletown wrestlers and two Lower Dauphin wrestlers placed in the District 3 sectionals on Saturday, Feb. 16 at Central Dauphin East and qualified for the district championships.Levi Sterner took first place in Section II at 106 pounds, while …
Six Raider wrestlers qualify for chance at district championshp
Posted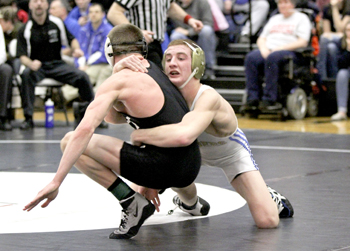 Six Middletown wrestlers and two Lower Dauphin wrestlers placed in the District 3 sectionals on Saturday, Feb. 16 at Central Dauphin East and qualified for the district championships.

Levi Sterner took first place in Section II at 106 pounds, while Zack Ulerich took first place at 120 and Bryce Killian took first place at 132. Todd Houser took third place at 126, while Steven Cain took third at 160 and Zack Buell took fourth at 145.


You can read the full story in our printed edition or our e-Edition.
Comments