Sixth-graders rout Schuylkill Haven, end successful season
Posted 3/4/14
The Elizabethtown Grade 6 boys' basketball team finished a successful season with a 45-26 rout of Schuylkill Haven, Submitted photo - Members of the Elizabethtown Grade 6 boys' basketball team are, from left: first row – Ryan …
Sixth-graders rout Schuylkill Haven, end successful season
Posted
The Elizabethtown Grade 6 boys' basketball team finished a successful season with a 45-26 rout of Schuylkill Haven,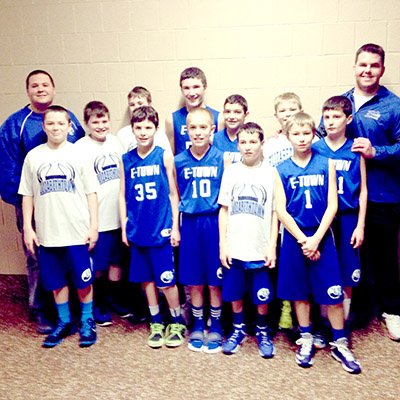 Submitted photo - Members of the Elizabethtown Grade 6 boys' basketball team are, from left: first row – Ryan Parise, Brody Beach, Jake Sevcik, Drew Shaeffer and Nate Seiger; back row – Coach Scott Billheimer, Ethan Lowen, Gavin Gilhool, Devyn Clair, Elijah Eberly, Luke Pierson, Alex O'Shea and Coach James Bard.improving its record to 20-2.
The team placed second in its league, after winning the league title in 2013. Elizabethtown has a winning record of 39-4 over the past two seasons.
This season, Elizabethtown defended its title at the Dickinson College Invitational, repeating as tournament champions. Elizabethtown also won the championship of the Penn Manor Christmas Tournament.
The team is sponsored by GEARS and the Elzabethtown Youth Basketball Association.
Comments