Soccer has brought him from Belarus to Middletown
Posted 9/3/13
"Soccer's just my life,'' says new Blue Raider coach
When you watch Sergi Koreba, the new Middletown Area High School varsity boys' head soccer coach, bark orders, offer tips and provide encouragement to his players, it's clear …
Soccer has brought him from Belarus to Middletown
Posted

"Soccer's just my life," Koreba said.

His obsession with soccer began as a young child in the 1970s in Belarus, an eastern European country that formed part of the Soviet Union.

Koreba would take advantage of every spare moment to play with a soccer ball from early morning until night, he said.

Soon, coaches realized that he had more than passion: He was a good player, particularly adept at ball handling and possession skills. He quickly rose through the ranks of local soccer squads and landed a spot on Belarus' 18-and-under national youth team as a left defender.

"I hated the position, but I took one for the team," he said.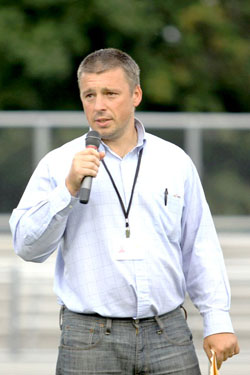 Koreba played in 36 games for Belarus while traveling across the world, before signing his first professional contract with Gomselmash of the Belarusian Premier League at the age of only 17.

"It was amazing. I played with some of the greatest players in Belarus," he said. "It was a tremendous experience."
Koreba looked to be on-track for a storied career as a professional soccer player – until a nuclear blast exploded his dreams.

In April 1986, Chernobyl Nuclear Power Plant in the Ukraine caught fire and sent a radioactive plume over the Belarusian border.

Koreba was just 19 years old when his family joined a wave of emigration in the wake of the disaster, moving to the U.S. and ending his professional soccer career in Belarus. He tried out for the Harrisburg Heat, a professional indoor soccer team in Harrisburg, but didn't have the immigration paperwork necessary to make the team, he said.
It was an unfortunate end to a promising professional career, but Koreba's love for the game never waned.

He still plays in the York Latin Soccer League, maintains friendships with players on the Heat and defunct Hershey Wildcats soccer teams, and now is coaching varsity soccer in Middletown.

Although his career has seen its peaks and valleys, he's thankful for the doors that soccer has opened to interact with fellow footballers across the globe. "It's a universal game," he said.

Koreba has a lot of soccer knowledge that he can impart to Middletown's players, but most of all, he wants to pass along his passion for the game.

"It's the best game in the world," he said.