Star Power: Raiders land six players on conference All-Star list
Posted 7/9/13
LD also sees six players receive Mid-Penn honors
Middletown's young, promising softball team placed three players on the Mid-Penn Conference Keystone Division All-Star Team and three more on the division's honorable-mention list.
Star Power: Raiders land six players on conference All-Star list
Posted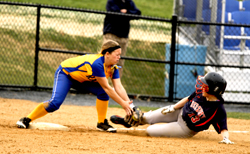 Photo by Phil Hrobak Middletown third baseman Carlie Wolfe tags an East Pennsboro runner during a game last spring.Shortstop Halle Marion, catcher Emily Mattes and third baseman Carlie Wolfe were named to the All-Stars first team, according to the conference.
Three other Blue Raiders received honorable-mention honors: second baseman Emilee Ernst, outfielder Cheyanne Frayre and pitcher Sarah Gossard.
All six return next season. Middletown graduated only two seniors from a 10-10 team that qualified for the Class AAA playoffs in District 3.
Lower Dauphin also placed three players on the division's All-Star team: First baseman Maddie Kotchey, second baseman Maddison Lilliock and centerfielder Elaine Gross.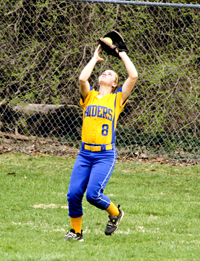 Photo by Phil Hrobak Middletown outfielder Cheyanne Frayre, above, makes a catch in right field during a game against Susquehanna Twp. Middletown catcher Emily Mattes, right, catches a throw home during a game against Lower Dauphin.Three more Falcons received honorable-mention honors: pitchers Steph Knaub and Tiff Grubb and second baseman Kaylee Stoner.
Lower Dauphin won the division title with a 13-1 record and qualified for the Class AAAA playoffs in District 3.
The Raiders, 7-7 in the division, won their way into the District 3 playoffs late in the season, earning the 14th seed in the 16-team playoffs. They lost a first-round game to third-seeded, senior-dominated Greencastle-Antrim, 7-3 in Carlisle on May 21. Greencastle-Antrim (20-7) won the Class AAA District 3 title, beating top-seeded Twin Valley, 7-5, and made it to the second round of the PIAA Class AAA state championships.
Lower Dauphin (16-7) won its first-round game in the Class AAAA District 3 playoffs, beating Red Lion, 7-4 in York on May 21. The Falcons lost in the second round to top-seeded Cumberland Valley, 9-2 in Carlisle.

Jim Lewis: 717-944-4628, or jimlewis@pressandjournal.com
{jcomments on}
Comments