Three raiders named to All-Star team
Posted 7/23/13
Three Middletown Area High School baseball players were named to the Mid-Penn Conference Keystone Division all-star team, while a fourth earned an honorable mention.
Three raiders named to All-Star team
Posted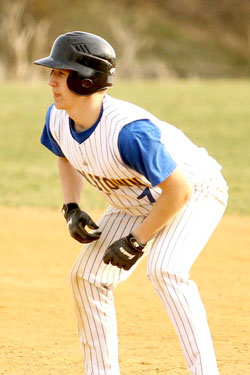 Outfielder Jordan Flowers batted .296 last spring.The Blue Raiders' Dylan Bower, Nathan Ocker and Zack Sims were named to the all-star first team. Jordan Flowers received the honorable mention.
Ocker, Sims and Flowers – all three pitch and can play another position – will return next year. Bower, an infielder, was a senior last season, and has graduated.
Middletown's young baseball team finished 9-10 last year, 7-7 in Keystone Division, narrowly missing the District 3 Class AAA playoffs.
The Raiders found themselves in 20th place in the district power rankings, with the top 16 teams qualifying for the playoffs. The season finale against against Steelton-Highspire was cancelled because of rain, potentially preventing Middletown from earning enough ratings points to qualify for the postseason.
Bower batted .326 last season, collecting 15 hits and 5 RBIs; Ocker, a sophomore pitcher and infielder, had a 2-3 record with an ERA of 2.30 and broke a school record by striking out 24 of 27 Palmyra batters he faced in an extra-inning game; Sims, a sophomore last season, had a 2.70 ERA and struck out 73 batters, walking only 12; Flowers, a sophomore outfielder, batted .296.
The Patriot-News named Ocker and Sims to its "All Underclassmen Team.''
Ocker, Sims and Flowers were named to the Capital Region baseball team that will compete in the Keystone State Games in early August. Middletown's Jimmy Fitzpatrick was named to Capital Region's junior team, for players in grades 9 and 10 next year. Fitzpatrick will be a freshman next fall.{jcomments on}
Comments