'TURN IT UP A NOTCH': Sure, coach: Early surge sparks Steelton-Highspire to 91-51 win over Panthers
Posted 3/12/13
It was a slow start for Steelton-Highspire in the first round of the PIAA Class A girls' basketball playoffs – the Rollers only led Northeast Bradford by 9 points at the end of the first quarter, so Coach Jeffrey Chisholm told his team, "Turn …
'TURN IT UP A NOTCH': Sure, coach: Early surge sparks Steelton-Highspire to 91-51 win over Panthers
Posted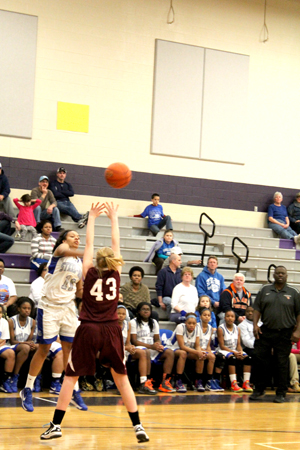 Photo by Noelle Barrett/ Miyah Viera makes a pass during the game.The Rollers' four senior starters posted double digits, with Malia Tate-DeFreitas leading the pack with a game-high 29 points.
Amber Hess-Moore posted 17 points, including four 3-pointers, while Jazmine Blanding added 16 points and Khadijah Robinson added 14 points.

Steelton-Highspire (24-4) advanced to a second-round game against Jenkintown (22-6) at 6 p.m. Wednesday, March 13 at Garden Spot High School in New Holland.

Robinson started the game against Northeast Bradford (16-10) with a basket on an assist by Tate-DeFreitas, but the Panthers' Makayla Helbert answered with a bucket. Hess-Moore posted the Rollers' next two baskets with a field goal and a 3-pointer.

Northeast Bradford kept in close proximity, but wasn't able to pull ahead. With less than 2:30 in the first quarter, Calla Martin nailed a 3-pointer for the Panthers to pull Northeast Bradford within 3 points, 13-10. "We started off slow, and that wasn't a good look for us,'' said Chisholm.

Then the Rollers kicked it into gear.

Tate-DeFreitas drove through the Panther defense for 2 points. Before Northeast Bradford could even get to mid-court, Blanding swiped the ball and passed to Tate-DeFreitas. Tate-DeFreitas made a quick pass around her waist to Blanding, who hit 2 points. The Rollers' Ceani Beaden then stole the ball and passed to Tate-DeFreitas for another bucket, to up the score to 19-10 with 1:38 left.
---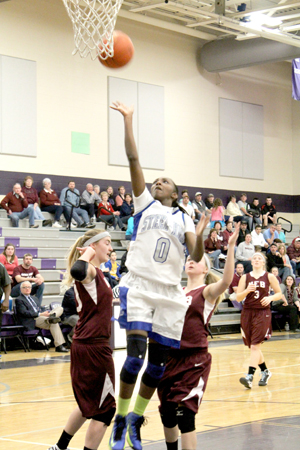 Photo by Noelle Barrett- Malia Tate-DeFreitas scored 29 points to help the Rollers to a 91-51 victory.Blanding added a 3-point shot and I'janique Simmons made a free throw for Steel-High, while the Panthers added 4 points to bring the score to 23-14, Steel-High at the end of the first.

The Rollers kept the same pace in the second quarter, starting the stanza with a 7-point streak with a basket from Blanding, a Miyah Viera free throw and two baskets from Tate-DeFreitas.

With 5:32 left in the second, the Panthers answered with a 3-pointer and basket, but a steal and assist by Tate-DeFreitas to Robinson gave the Rollers a 32-19 lead.

Tate-DeFreitas added a basket, and the Rollers worked their way around the outside of the key, with Tate-DeFreitas getting the ball to Blanding who sank a 3-pointer with ease.

With 30 seconds left in the first half, and Steel-High leading, 39-24, Hess-Moore stole the ball and passed to Blanding, who took the ball to the key and made a pass to Hess-Moore. Hess-Moore took the shot, tacking on 3 points with a second to spare to give the Rollers a 42-24 lead at the half.

An 18-point lead could be considered comfortable or a cushion for some teams, but for Steel-High the lead was modest. A 31-14 third quarter run would seal the game for the Rollers.

Tate-DeFreitas gave the Rollers sank two free throws, but the Panthers started the half making their shots with a basket apiece by Martin and Angelia Laudermilch.

An 11-point Roller streak would follow, interrupted only by a lone Panther free throw.

Blanding started off Steel-High's roll by outrunning the defense for a quick layup. Tate-DeFreitas added a bucket, and Blanding drove through the Panther defense for 2 points. A free throw by Tate-DeFreitas followed.

The Roller defense was on point, as Steel-High continued to get the ball. Blanding hit for 2 points and added an assist, getting the ball to Robinson for another basket that gave Steel-High a 55-30 lead.

The Panthers added a basket, but it wouldn't stop the Rollers' offense. Steelton-Highspire put up 9 more points without interruption. Beaden grabbed two back-to-back baskets, while Hess-Moore – alert and aggressive on defense – stole the ball again, getting it to Tate-DeFreitas for a basket that gave the Rollers a 61-32 lead.

A pass by Blanding secured another 3-pointer for Hess-Moore. Laudermilch tried to keep Northeast Bradford alive by hitting two baskets, but Viera added a basket and Robinson nailed four free throws to give the Rollers a 71-36 lead.

Joslyn Hill, coming off an injury, saw some playing time for the Rollers and added a basket off an assist by Tate-DeFreitas. The Rollers ended the third quarter with a 73-38 lead.

All the Rollers had to do was keep a steady pace and hold the Panthers off in the fourth quarter to win the game, but slowing down isn't Steel-High's style.

Tate-DeFreitas also made a basket, followed by an assist to Hess-Moore for a basket. Martin scored two free throws with 6:48 left to give Steel-High a 77-40 lead.

Hess-Moore made a free throw, and with an assist by Tate-DeFreitas, added a 3-pointer. Tate-DeFreitas and Hess-Moore continued to work together, with a quick pass from Hess-Moore to Tate-DeFreitas giving the Rollers 2 more points. The Rollers climbed to a 43-point lead, 83-40.

As the clock ran down, Laudermilch posted 2 points, but Beaden responded for the Rollers with a basket off an assist from Blanding.

Northeast Bradford's Lydia Werner and Laudermilch scored two baskets, followed by a quick layup from Maddy Johnson, but the Panthers were down by too big of a margin.

With Tate-DeFreitas scoring big every game, it's easy for the other teams to lose focus on the other talent on the court, said Chisholm.

"Let them keep concentrating on Malia, and we'll keep running with the ball," said Chisholm. "Once we make our rebounds, we break down the floor . . . They were on the big stage, and they play better when they are on the big stage."

Communication was key for the Rollers' win, said Blanding.

"We began a little iffy at the start of the first half," said Blanding. "The second half we came up strong ... We did a pretty good job moving around and talking to each other."

"It finally clicked for us. Now that it's the first round of states, we got to go for the ball," said Beaden, who scored 8 points, grabbed six rebounds and made two steals. "The teams are coming at us, so we gotta play smart and play safe."

While the Rollers are known for racking up the points, they made sure to make a statement with their defense.

"Our defense was upbeat today," said Hess-Moore, who had a season-high four steals and five assists. "I knew I had to step it up ... We just want to keep our pace, doing what we do best."
Noelle Barrett: 717-944-4628, or noellebarrett@pressandjournal.com
Comments