Unbeaten Palmyra stops Rollers, 75-62 in Mid-Penn tournament semifinal
Posted 2/19/13
Steelon-Highspire battled, but the Lady Rollers were ousted from the Mid-Penn Conference playoffs by unbeaten Palmyra, 75-62 in a semifinal game on Tuesday, Feb. 12.Malia Tate-DeFreitas scored a game-high 33 points for the Rollers (20-4). Jazmine …
Unbeaten Palmyra stops Rollers, 75-62 in Mid-Penn tournament semifinal
Posted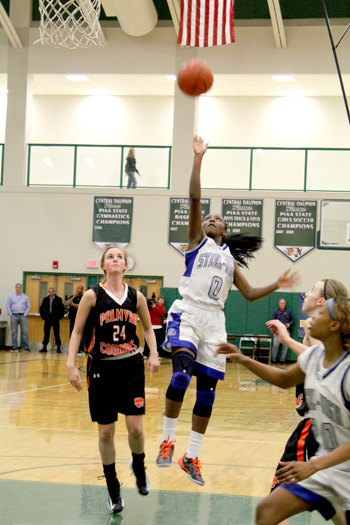 Steelon-Highspire battled, but the Lady Rollers were ousted from the Mid-Penn Conference playoffs by unbeaten Palmyra, 75-62 in a semifinal game on Tuesday, Feb. 12.

Malia Tate-DeFreitas scored a game-high 33 points for the Rollers (20-4). Jazmine Blanding added 14 points and Khadijah Robinson had 2 points and 12 rebounds.

Both teams missed shots early. With 5:48 left in the first quarter, Tate-DeFreitas passed off to Robinson, who sank a basket to tie the game, 2-2. From there, Steel-High worked its magic.
You can read the full story in our printed edition or our e-Edition.
Comments