UNBEATEN:Raiders hold off West Perry, 33-32 to keep early-season record perfect
Posted 12/23/13
The Raiders (7-0, 5-0 in the Mid-Penn Conference Capital Division), used a tenacious defense to hold West Perry (5-2, 4-1) to 23 points below its team average, and deny Mustang standout Megan Smith the chance to reach the 1,000-point milestone in …
UNBEATEN:Raiders hold off West Perry, 33-32 to keep early-season record perfect
Posted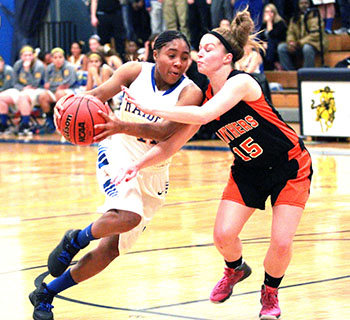 Jalynn Burton-Jones (11) drives to the basket against East Pennsboro. The game was an intriguing match of Mustang height against Raider quickness. On offense, Middletown kicked the ball back outside time and again when shooters couldn't find an open shot.


Afterwards, West Perry Coach Scott Moyer was dismayed that Middletown's young players – two juniors, a sophomore and a freshman are among their starting five – showed more patience than his more experienced Mustangs.


"We had some seniors and juniors who didn't play like seniors and juniors, and their young kids seemed to handle the pressure,'' said Moyer.


He admitted, perhaps a bit begrudgingly, that the Raiders' defense bothered his team enough to be a factor in the outcome. "We're not used to that kind of pressure day in and day out,'' he said.


The Mustang defense seemed to rattle the Raiders, as Middletown's small players rushed shots at times to avoid their taller defenders. Though it was an important victory against a league favorite, it wasn't perfect, said Coach Chris Hunter.


"We made some mistakes, but we rebounded,'' Hunter said. "With the young team we have, we did a lot of simple things wrong. They got out there and dug in their heels on defense.''


Middletown jumped to a 12-3 lead late in the first quarter, but West Perry closed the gap in the second quarter. A steal and layup by Madison Urich cut the Raiders' lead to 14-13 with about 5:00 left before two free throws by Halle Marion upped Middletown's advantage to 16-13 about a minute later.


Jey Rivera and Jalynn Burton-Jones, Middletown's high scorers with 12 points apiece, keyed a Raider run in the third quarter, combining to score 10 of Middletown's 14 points during a blitz that staked the Raiders to a 30-21 lead with 15 seconds left in the period.


But the Raiders suffered a scoring drought through the first 5:24 of the fourth quarter, and West Perry grabbed a 32-30 lead on a put-back after an offensive rebound and a free throw with 2:36 left in the game.
Rivera's basket from underneath tied the game at 32 with 2:15 left, and that basket and some staunch Middletown defense set up Campbell's heroics.


With the game tied and the Middletown crowd pounding the bleachers with their feet, the Mustangs bounced a pass on the perimeter off a teammate's legs with about 1:20 left, and the Raiders grabbed the turnover. Middletown then wound down the clock for one last shot, and when the countdown reached 10 seconds Rivera threw a pass underneath to Campbell for a game-winning shot.


Campbell was fouled, sending her to the foul line – which was a wondrous site to Hunter, since Campbell is the team's best free throw shooter and only senior. She hadn't missed a free throw this season.


She missed the first shot.


She swished the second.


West Perry struggled to get the ball anywhere close to the Middletown basket in the final 9 seconds.


"I thought our quickness gave them a little trouble,'' Hunter said afterwards.


Now the Raiders are one of only four unbeaten girls' teams in the Mid-Penn Conference – along with Palmyra (7-0), Greencastle-Antrim (6-0) and State College (5-0). "With a young team like this, to jump out like that feels good,'' said Hunter.


Middletown 42
East Pennsboro 29
Burton-Jones scored 18 points and Marion added 9 as Middletown topped East Pennsboro on Tuesday, Dec. 17 in Middletown.


Rivera scored 8 and Bianca Jasper, a freshman, added 7 for the Raiders.


Kailee Yoder led the Panthers (3-4, 2-3) with 12 points while Sam Marino added 11, including three 3-point baskets.


Jim Lewis: 717-944-4628, or jimlewis@pressandjournal.com
Comments