'WE PLAY WITH OUR HEARTS': Surprising Rollers beat Halifax, 57-49, claim District 3 title
Posted 3/4/14
It may have been the same opponent as last year, the same arena, the same outcome, but the Steelton-Highspire girls' Photo by Noelle Barrett - Steelton-Highspire players pose with their championship trophy and gold medals after beating Halifax for …
'WE PLAY WITH OUR HEARTS': Surprising Rollers beat Halifax, 57-49, claim District 3 title
Posted
It may have been the same opponent as last year, the same arena, the same outcome, but the Steelton-Highspire girls'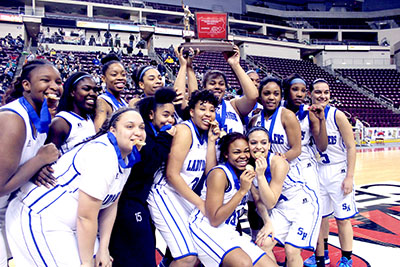 Photo by Noelle Barrett - Steelton-Highspire players pose with their championship trophy and gold medals after beating Halifax for the District 3 Class A title at Hershey's Giant Center.basketball team's win over Halifax in the District 3 Class A championship game on Thursday, Feb. 27 at the Giant Center was different – much different.
Last year, senior superstar Malia Tate-DeFreitas scored 38 points, and joined three other senior starters to score 60 points collectively to lead the Rollers to victory over Halifax. But this year it was all hands on deck, as it's been all season – and the significant role each person played helped make Thursday's 57-49 win in Chocolatetown a little sweeter.
"I can't even describe to you in words how this feels right now,'' said junior Genesis Lozada. "It feels so good because last year we got to watch Malia and them win a gold, and this year it's just us. It just feels amazing to be able to say I participated and that I helped win the gold."
For the full story, CLICK HERE to subscribe to the Press And Journal.
Comments